Looks can be deceiving
The SteelSeries Kinzu V2 Pro Edition isn't anywhere near as extravagant as its name suggests, but the catchy "no thrills, just kills" tag-line from its official product page tells you all you really need to know about the Danish manufacturer's latest gaming mouse.

Retailing at £31.99, the V2 Pro is an entry-level optical gaming mouse that attempts to satisfy the very basic needs of avid PC gamers by scrimping on a few features and attempting to make up for them with a tournament-grade sensor.

Measuring 36 x 64 x 117mm, the Kinzu V2 Pro has a love-it-or-hate-it, extremely slim and low profile. Consequently, its slender frame is more suited to the fingertip grip style and isn't ideal for "palming," particularly if you have big hands.

Also available in glossy black and red, we tested the Special Silver Edition which has a metallic reflective plastic outer shell that feels cold when you first lay hands on it. When things do start to warm up though, the combination of the reflective surface and its very low profile means that hands can get hot and sweaty very quickly.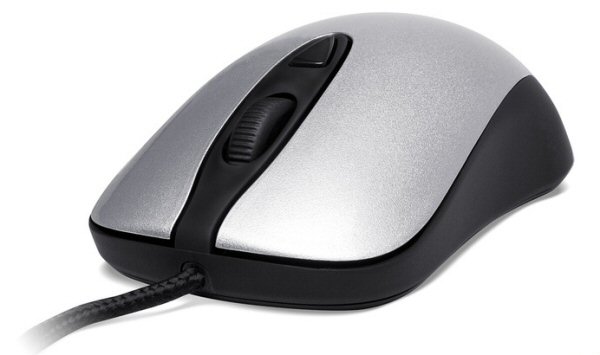 Design
Due to its symmetrical design, the Kinzu V2 Pro can be used by left-handed and right-handed players, while the rubberised grips on either side ensure there's added comfort while gripping the mouse.

The V2 Pro sports a simple four-button design with standard left- and right-click buttons either side of the clickable scroll wheel. The fourth button sits just below the scroll wheel and can be used to toggle sensitivity. A thumb button on the black-coloured side grip panel is something we usually take for granted, but the V2 Pro, surprisingly, doesn't have one.

On its base, three gaming-grade UPE Teflon pads offer low-friction glide, and the mouse connects via USB with a sturdy two-metre braided cable giving some flexibility and durability.

Based on looks and feel, our first impressions aren't great. We're not big fans of the reflective metallic casing of the V2 Pro - it feels cold and unwelcoming when you first lay hands on it, while the low-profile design alienates those with bigger hands who don't like the grip style. Nonetheless, its small frame does mean that it's lightweight and therefore glides very smoothly across the mouse pad.


Drivers and software
With no CD bundled with the V2 Pro, one has to head over to the SteelSeries website to download the driver and SteelSeries Engine software, providing the means by which to reprogram the mouse.

The SteelSeries Engine is super-simple to navigate. The left- and right-click buttons and scroll wheel are fully programmable, though it's not possible to reprogram the fourth button, which is used solely for assigning two DPI settings out of four solid options: 400, 800, 1,600, 3,200.

The polling rate can also be adjusted, which is automatically set at a maximum of 1,000Hz, and record macros; though the lack of programmable buttons on the mouse means that you don't have too many options available.



An unlimited number of profiles can also be setup, though we couldn't see any way in the SteelSeries Engine where users can set profiles to the mouse buttons to enable on-the-fly profile switching. Nonetheless, the software does offer the basics along with a stat tracker to monitor button presses, which may be all that some gamers need.

The only annoying aspect about the software package is that it also downloads a heap of other unwanted stuff, such as PDF manuals for a Diablo III headset and mouse.