Lighting up your life?
Thinking of ways to make your gaming keyboard stand out from those of your competitors must be a real headache for peripheral manufacturers. German-based ROCCAT is attempting to do just that with its ROCCAT Isku Illuminated gaming keyboard.

Priced at £69.99, the Isku comes jam-packed with features designed to give you an edge over your competitors and introduces ROCCAT Talk, a new technology that enables your keyboard to communicate with a compatible mouse. To see this in action - and for the sake of providing a comprehensive review - we used the ROCCAT Kone[+] Max customisation gaming mouse, which we reviewed and rated highly in 2010.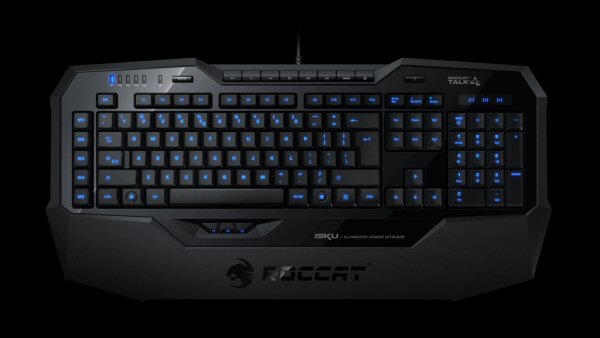 Click for larger image



Inside the Isku box you receive a product manual and driver CD, hosting the software to customise your keyboard, plus an ID card granting you full access to ROCCAT World, which is an online community and support site. Having used ROCCAT's support network in the past we've always found the company eager to please; and without a UK support line it's an invaluable source for general help, information or troubleshooting.

The Isku is a huge keyboard, quite possibly the largest keyboard we've ever reviewed, measuring 24.7cm x 50.9cm with a thickness of approximately 2.5cm. The main reason for the size is the integrated, extra-large granular wrist rest, which does provide added comfort but takes up a lot of real-estate on your desk. We'd have preferred it to be an optional add-on, though the sheer size of the keyboard does give it a certain air of authority.