How does the mouse fare?
My initial thoughts of this mouse weren't really great. I thought it looked a bit cheap and tacky from some images I'd seen, but as soon as I opened this mouse, all of these thoughts were washed away. This mouse is brilliant, it looks amazing, it feels amazing and it has lights on!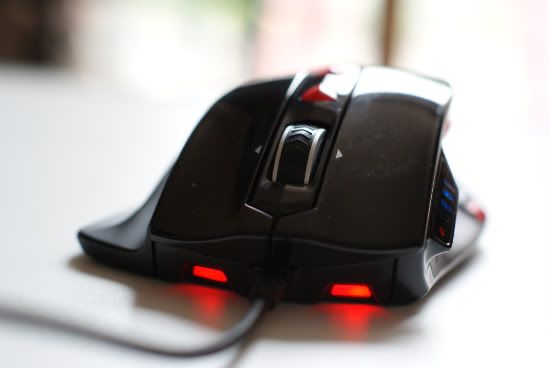 The shape is very striking, but extremely comfortable. The whole mouse seems to hug your hand and accommodate every last bit, there is also a rubber grip included on the thumb area which definitely aids grip and comfort. I really think they modelled this mouse on my hand. Button placement, on the other hand, is a different story; the 2 thumb buttons on this mouse just aren't quite in the right place, I found them a little awkward to reach while playing. This mouse is completely unsuited to a "claw" type grip, this mouse is definitely not for you if you hold the mouse in such a way.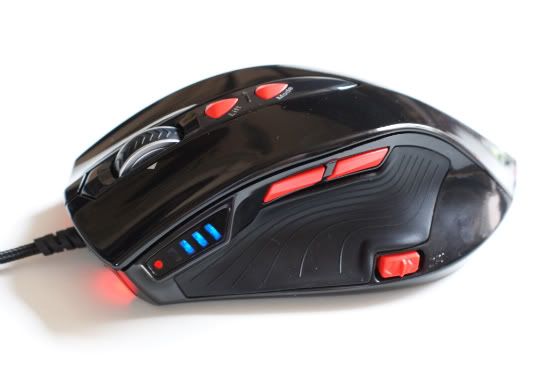 Flipping the mouse over revealed five very slippery chrome feet, these feet give this mouse amazing glide and make it very easy to move about, although a little too easy at times, a problem I found while clicking was that it would move from the pressure of the click, so therefore no longer clicking where you wanted to. Also included on the under-belly of the mouse is a large button that detaches the side from the mouse, with an included replacement, depending on what shape you prefer. This is also where you adjust the weight of your mouse; I found I needed to add a lot of weight to my mouse, mainly due to the fact I prefer a heavy mouse.