A cheaper alternative to the G11
Before we begin the review of Logitech's latest middle of the range G110 keyboard, it's worth noting that I have never reviewed any of the company's previous keyboards so won't be making comparisons.

The G110 is Logtiech's successor to the G11 and comes with equipped with some new features, including USB 2.0 support. Out of the box you get the G110 keyboard, a plastic detachable wrist-rest that clips into the bottom-end of the keyboard providing some stability for your wrists, a software CD, a quick start user manual and two years warranty -- all for the price of £69.99.

When unfolded the Quick Start User Guide is so large it takes me back to my scout days of fumbling around in forests with those ridiculously large Ordnance Survey maps, or in more recent days, whenever I see business-types wrestling with a copy of The Times on the train. Nevertheless, it does its job effectively of getting your keyboard set-up quickly, which doesn't actually take any effort at all.

You simply plug the keyboard into your USB port and you're good to go. The software takes a matter of a couple of minutes to install and gives you access to tutorials and the Logitech G-Series profiler from where you can amend keyboard settings. The software is stylishly presented and very simple to use. Instead of reams of text to read through you get a pictorial representation of the keyboard. You can click on keys or sets of keys and via images it describes extremely well all of the main features of the keyboard and how to use them. You can also use the automatic game detection tool to set separate profiles up for each of your games.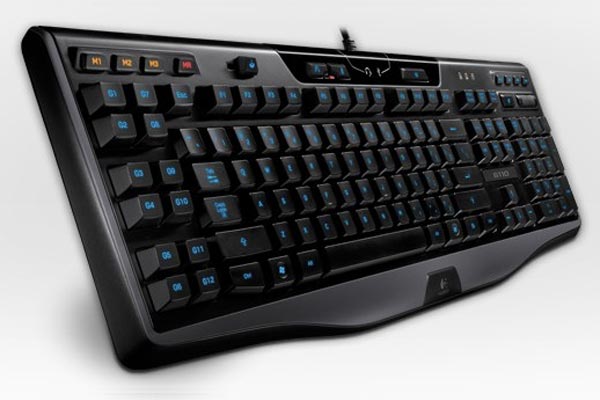 The keyboard itself measures 20" (51cm) across, so it's larger than a standard keyboard, with the 12 macro buttons (grouped in three rows of four) situated on the left hand panel adding an extra 2 ½" of room .The keyboard is attractively shaped, with the standard rectangular design on three sides that then curves in and out on the bottom of the keyboard to deliver a rather sexier looking shape than your standard keyboard. The keyboard comes in a standard matt black colour, but there's a grey trim that runs around the left, bottom and right edges of the keyboard that makes it stand out. There's a small black glossy panel that sits on the top centre of the keyboard where you'll see the headset and mic mute buttons, alongside a button that allows you to turn the LCD backlights on and off at your pleasure.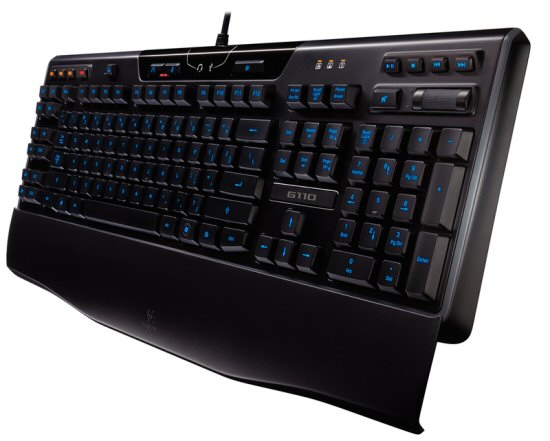 Continued overleaf...