Un-boxing the Imperator
Guest reviewer - Matty Hodgson
With a huge range of gaming mice available, what sets the Razer Imperator apart from the rest? The aim of this review is to discover the pros and cons of this gaming mouse, and then deliver my verdict.
Packaging & Contents
This is an area where Razer's products really shine, Razer's full product line is always very nicely designed, with a simple box sporting the typical green and black theme; and this packaging is no exception.The mouse comes in an average sized box with a picture of the mouse on the front with a smoke effect blended into the background. The box also has an opening front with a Velcro seal which reveals the mouse tucked away neatly inside.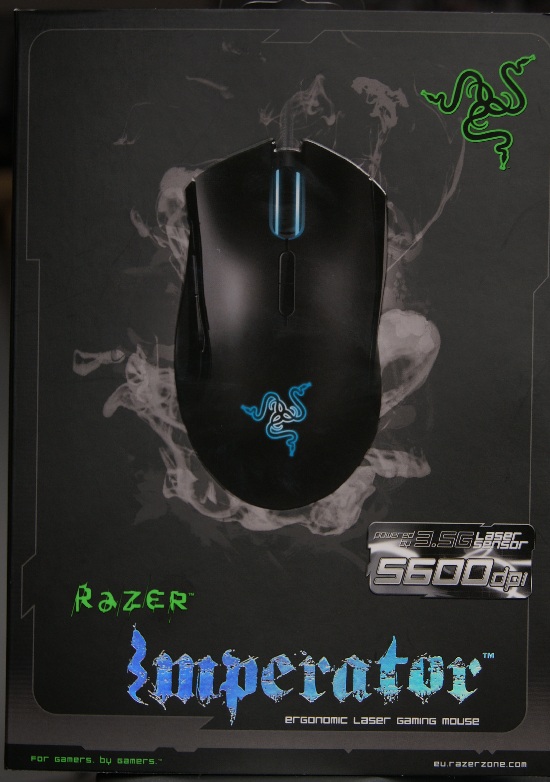 The box is covered with information about the mouse, this includes a detailed table about the way that different sensors work and their DPI limits and an in-depth description about each special feature on the mouse.

There isn't really anything special about the box though, but it looks impressive, and functions well. Although, I can't help but think that Razer could've added a lot more "green" to this box by saving on materials used; there really does seem to be too much wasted plastic and cardboard involved.
The included extras with this mouse are amazing; you get a very well padded out instruction manual, for both PC and Mac. You also get a quick start guide for PC only. There is also a Certificate of Authenticity, a drink coaster, a couple of Razer logo stickers and a product catalogue. All of these are very well written in simple terms to allow easy understanding. The extras are all incredibly aesthetically pleasing with their sharp edges, black and green colour scheme and uniformity.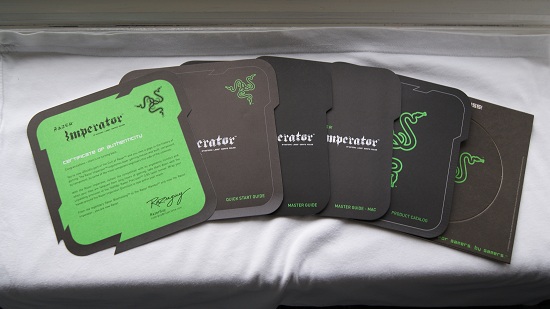 Continued overleaf...