When Capcom took over the publishing rights to the MotoGP franchise from THQ in 2008 there was a notable change to the racing dynamics on the track. The arcade style gave way to a more punishing simulation of the sport that was obviously aimed toward hardcore fans of the genre and sport. For the latest game in the series , however, both publisher and developer, hopes to broaden the appeal and so you'll be given a choice between a simulation and arcade mode depending on your preferred play style. We also understand you'll be able to switch between these styles during the Championship.

Indeed, the new features and tweaks to the gameplay appear to make MotoGP 10/11 a more accessible game to casual racing fans. In addition to the full roster of teams, riders and tracks from the 2010 season and a 2011 update, the major addition this year is offline co-op play, a strange inclusion for a racing game. Co-op play will be split-screen only and allow team-mates to work together as a team to win the championship. We're not quite sure exactly how you can work together as a team while travelling at speed on a motorbike, unless of course you can apply the "punch other riders in the face" Road Rage-style approach? Of course that's not going to be the case, but maybe it will be fun to take turns to block opponent's off so your colleague can speed forward, or knock other riders off course as you hurtle around a bend? Whatever the case, co-op should make racing more aggressive. Though an online co-op mode would have been a nice addition, its inclusion is further indication that MotoGP 10/11 is intending to target a new audience, as well as trying to hang onto the existing fan base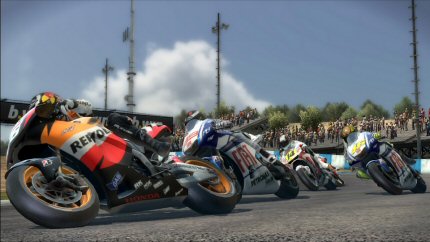 Familiar game modes, such as Championship and Time Trial should appease those familiar with the series. There's also some tweaks to existing modes, such as Challenge mode. Monumental hasn't yet elaborated on what those changes are, other than the fact that all riders will be unlocked from the outset allowing you to jump straight in with your favourite sportsman, but we'd hazard a guess that they'll be many new challenges to get stuck into, with some perhaps based around co-op play.

Despite these additions, MotoGP 10/11 is going to live or die based on its performance on the track, and it looks like progress has been made with news of major enhancements to the handling model and the physics in the game. Last year, we found the bikes quite hard work to handle, particularly around corners, so we'd expect it to be a more forgiving experience that fits in with the new arcade-mode and pick-up-and-play appeal that the developer appears to be striving for this year.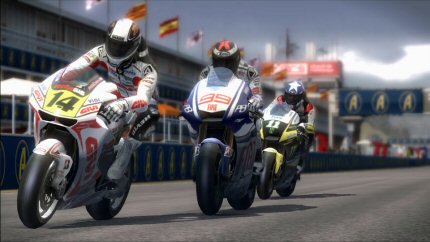 It looks like Capcom and Monumental has learned lessons from last year's game. The simulation style obviously didn't attract the attention it wanted from the masses so cleverly it has reverted to giving players the option of an arcade mode, which is a good thing. This should, in theory, give the franchise a broader appeal and attract casual and hardcore racing fans. It's a very wise move, but will it pay off? We'll have to wait till March 2011 to find out.