Rock on, Tommy!

Ok so we've already told you a fair bit about Guitar Hero III: Legends of Rock, but how about a bit more info on the game itself and some pics of those detachable necks on the Les Paul and Explorer guitars?

Let's go with some more info first, you'll find the pics further down the page.

So Guitar Hero III: Legends of Rock will have 70 tracks in total, with more downloadable over Xbox LIVE or the PlayStation Network. Around 70% of the tracks are from the original master tracks as performed by the original bands. This is a huge step forward for Red Octane and the Guitar Hero series and it shows the games popularity that record companies are willing to let their acts' music be used like this... Either that or Red Octane and Activision are throwing some serious wonga at them!

I rather suspect the former though as we've been told that a few bands even re-entered the recording studio to re-record tracks as masters weren't available. One band, Living Colour, even re-entered the studio to re-record their track and added in an extended guitar solo to make the song harder!

On the multiplayer side of thing there's 44 co-op songs for you and your mate to strum through but, new to the series, is the battle mode where you don;t just use star power to rack up the points but you use it as a weapon picking up various devious attacks to throw your opponent off.

The various attacks include Broken String which sees your opponent lose a fret button until he repeatedly taps it to repair the string, Level Up, which ramps him up to the next level (which can be a bast), Double Notes which forces him to play chords on every note and my favourite, the Lefty Flip, so everything is reversed... nasty.

Now in the previous Guitar Hero games have come in for some flack for being a bit too hardcore in the tracks you can play. It's a sure thing that the game has much wider appeal than just metal fans and this has clearly been taken on board. The latest track list shows a good number of more mainstream tracks from more recent bands... but superbly, there's going to be localisation of tracks too. So a band that's huge in Germany, no, not David Hasselhoff, but unknown elsewhere might be in the German release but not in the UK one... and if you're worried about missing out, just grab 'em from download anyway.

Right then, let's have some shots of those guitars: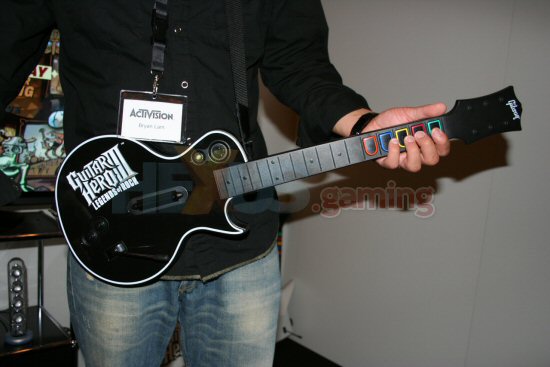 The Xbox 360 Wireless Gibson Les Paul...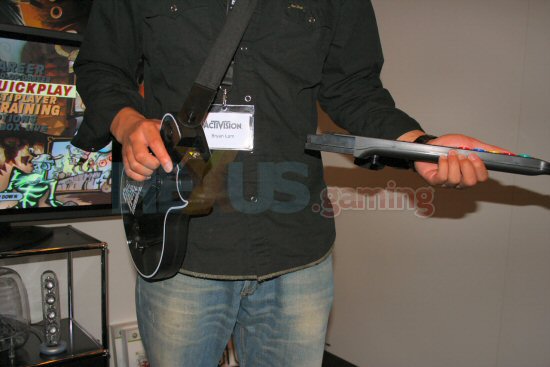 ... and now with the neck off!