Go!Explore set for Spring

In Spring 2008, Sony will be launching a new range called Go! Explore, which will turn the PSP into a Personal GPS Navigation System system.

The Go!Explore setup consists of an attachable GPS receiver and a UMD disc of the user's chosen maps. At the touch of a button, users will be able to find their position on a map and work out the direction they need to take. It will work both on foot and in the car and – as most of the hardware is in the PSP attachment – and Sony say it will offer a top-notch Personal GPS Navigation System system at a fraction of the cost of other systems on the market.

On foot, you'll be able to plot your way through cities in 3D thanks to the fully modelled city maps contained on the UMD discs. Simply load the UDM disc, select your destination, and watch as the city's landmarks and points of interest appear on-screen in 3D. You can download new maps and upgrades from Playstation Network.

When you're in the car, you'll benefit from different display modes for day and night, meaning that you'll always get the clearest view of where you're going. And don't worry about your battery life or where to put your PSP while driving – they'll also be a Car Adaptor and Car Mount accessories on the way too – bundled together in one package.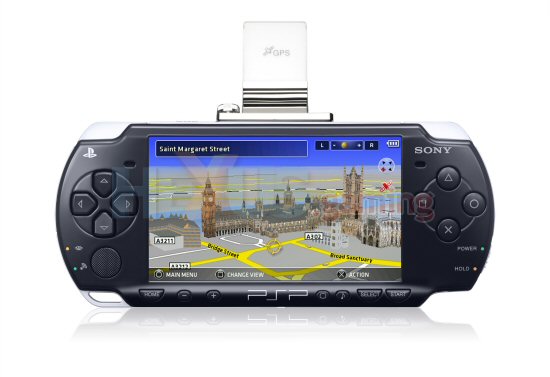 Click for larger image



Go!Explore uses the technology of two other market leaders: map data industry leader TeleAtlas and navigation software legends NavNGo.

"Go!Explore is a stunning addition to the Go! range," said Stephane Hareau, PSP Senior Brand Manager at Sony Computer Entertainment Europe. "Who would have previously thought that PSP owners would be able to use PSP to navigate their way around an unfamiliar city? It's an awesome product and another testament to the unrivalled potential of PSP."

How much does it cost?

* GPS receiver and UMD (including maps of the relevant country): RRP €119
* GPS receiver, UMD (including maps), Car Adaptor and Car Mount: RRP €149
* PSP, GPS receiver, UMD (including maps), Car Adaptor and Car Mount: RRP €299

Updates will be available from Playstation Store for PSP at www.store.playstation.com.