Gizmondo goes wide!
Gizmondo goes wide!


Gizmondo Europe Ltd have decided to reveal their new Gizmondo Widescreen version after much speculation that the widescreen model is now developed, following the publishing of unofficial prototype photographs.

The WiFi and GSM Voice-enabled Gizmondo Widescreen had been kept under wraps as part of a multimillion-dollar R&D project. It was developed as a key component in an ongoing strategy that currently includes plans for a number of different devices, all of which feature the combined functionality of games, music, movies, messaging, a digital camera and GPS technology.

The new Widescreen Gizmondo will compliment the current Gizmondo, which is due to launch shortly in North America, and give consumers more choice in terms of specs and feature sets, as well as an upgrade path… all of which will be become clear before the projected release in the second quarter of 2006.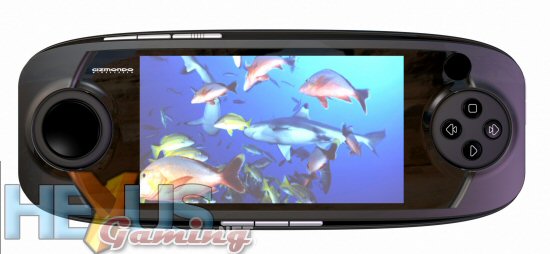 As its name suggests, the Widescreen has a larger 4" display. The processor's power and memory have been increased to power a load of new onboard applications serviced via WiFi (WLAN 802.11b/g), Bluetooth 2, and tri-band GSM technology, making it possibly the most connected handheld entertainment device on the market.

Steve Carroll, CTO, Tiger Telematics, says

"We're dramatically increasing the processor power to above 500MHz on this Widescreen model and significantly escalating the amount of memory. Although the 3D graphics accelerator used in the Gizmondo is the current best of breed, this next generation takes us visually into a new dimension."

The new model specification are as follows:
• GSM voice telephony
• Handsfree speakerphone
• Voice control using voice recognition software
• LCD TFT screen 4.0" 480 x 272 pixels
• Upgraded 3D graphics chip
• Analogue TV out
• 500MHz (min) processor
• Onboard RAM
• Onboard flash
• SD flash card reader, externally accessible
• Transflash card reader for user upgradeable flash memory
• GSM/GPRS 900/1800/1900MHz or 850/1800/1900MHz tri-band
• USB 2.0 OTG
• High sensitivity GPS receiver with assist capability
• Two analogue joysticks
• 3.5 Ah Li-Ion 'smart' battery
• 2 mega pixel auto focus camera with LED flash
• Stereo speakers
• Bluetooth class 2
• WLAN 802.11b/g
• Wired stereo headset/mic
• Remote control pod for wired headset