Strategic warfare


The Outfit Multiplayer Demo - Overview Summary:

Overview: Combining intense squad based combat with the freedom of total destruction - The Outfit takes players behind enemy lines to battle the Nazi War Machine.

In addition to an epic single player campaign - players will be able to battle it out via the game's multiplayer mode - choosing between a variety of Co-Op and Team-Based Multiplayer game types including Deathmatch, Destruction and Strategic Victory.

The Outfit multiplayer demo will provide the players of the Xbox 360 video game and entertainment system from Microsoft with a great sample of the intense multiplayer experience (Strategic Victory) available in the final game - with up to 8 players battling to secure command points and strategic objectives throughout the map for their side.

Players will choose their side (Axis or Allies) - then choose between 3 playable squad leaders - each with their own skills and abilities, working together with other team-mates to win the match.

In addition to a variety of playable squad leaders, the Multiplayer Demo includes the game's unique Destruction on DemandTM feature - enabling players to call in reinforcements ranging from troops, tanks, guns and heavy artillery to air-strikes - into the battle to instantly increase their firepower.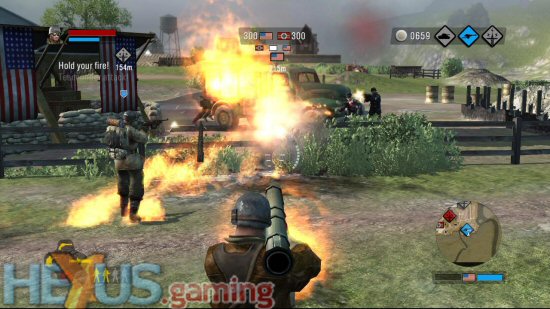 Click for larger image



Demo Details: Availability - Launch Date : 3rd March 2006 (via Xbox Live online gaming service) / OXM. Demo Content: German version with the level of violence approved for all territories Players/ Multiplayer Connection: Up to 8 Players via Xbox Live, or 2 Players (1vs1) via Split Screen Languages: English with FIGS, Korean and Japanese sub-titles Estimated File Size: 500 MB

Level overview: Name: Estate Assault Game Type: Strategic Victory

Overview:

After a coordinated offensive - Allied Command has commandeered a French villa just across the river from the Axis HQ.

Choose your side (Allies or Axis) and squad leader to play (3 from either side; 6 total) and lead your squad into battle to destroy the enemy's HQ, while defending your own.

Capture strategic points located throughout the map to earn Field Units (F.U.s) - that can be used on the fly to call in Destruction on DemandTM - air-dropped into the action at any time. Everything can be called in from tanks, jeeps and half-tracks to squad reinforcements, machine gun nests, anti-tank guns and even air-strikes on enemy positions.


Click the links below for all of HEXUS coverage on The Outfit:
The Outfit: Preview