Get iTunes onto your PSP


THE WORLD'S FIRST COMPLETE AUDIO INTEGRATION SOFTWARE THAT ALLOWS ITUNES MUSIC* TO PLAY ON A PSP.

Fire International today announced the release of their new PSP Music Studio PC software and USB cable for the Sony® PSP console.

The PSP Music Studio is the perfect software to compliment the music playing functionality of the PSP, allowing you to organise and consolidate all your PSP music in one place. PSP Music Studio allows you to import your existing CD music collection and convert CD's to MP3 for playback on PSP; with the album, artist and track names used as well!

If you have an iPod as well as a PSP, Music Studio also works alongside iTunes, allowing AAC or MP3 tracks to be "dragged and dropped" from iTunes* into the PSP Music Studio and your PSP. PSP Music Studio will even automatically change the extension of your iTunes AAC tracks from M4A to MP4 for seamless transfer to PSP.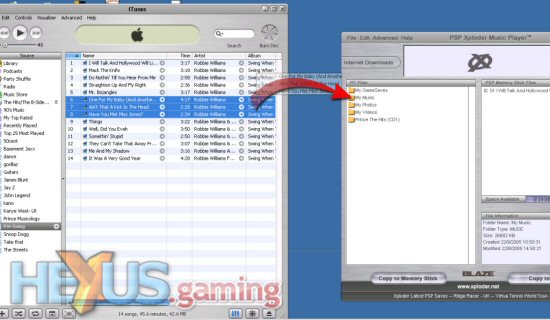 Click for larger image



Skinned with a stylish intuitive interface, PSP Music Studio gives you access to a whole host of functions that are easy to use and allow you to:

• Import you own music CD collection to MP3 for PSP playback.
• Automatically name your MP3's with Artist, Album, and Track names.
• Copy MP3 or AAC tracks from iTunes straight into PSP Music Studio
• Rename iTunes AAC tracks from .M4A to .MP4 for PSP playback.
• Fully manage all your PSP music files.
• Use an "iTunes" style intuitive graphical interface- functional and easy to use.
• Copy, Delete, Download and Upload files between PC, PSP and Memory Stick.
• Backup music to PC, and save storage space on your Memory Stick.
• Supports, MP3, AAC and WAV.
• Manage storage capacity via the on-screen memory stick capacity bar. (MB/KB).
• View Lives RSS Feeds to keep you updated with the latest PSP news.

Also includes PC USB to PSP USB Mini Cable with built in USB Charger.

Managing Director of Fire International, Jason Cooper said "PSP Music Studio is the perfect music management system for PSP owners. Users of both Ipod and PSP will find this software an invaluable solution for the complete integration of their existing iTunes music, MP3 and CD collection, as it eliminates the need for users to re-rip their music collection for use on their PSP."

PSP Xploder Music Studio will be available in soon and will cost £9.99
• Tracks purchased from the iTunes Music Store cannot be copied from iTunes.