MAX media dock


With MAX Media Dock for DS and DS Lite, you can turn your happening handheld into a powerful home entertainment device, with movies, music and more played directly from any Compact Flash card of up to 8GB.

At the heart of MAX Media Dock is Datel's exclusive MAX Media Player, supplied on a DS cart. Insert it into the slot used for DS games, and you're ready to roll with our fully featured browser. From here, you can access data stored on a Compact Flash card, which fits in your DS's GBA port using the supplied Media Dock.

MAX Media Player can play MP3s directly from your flash card, giving you access to music on the move. It can also stream video footage, and access your JPEGs for a convenient photo viewer. Perhaps best of all, it can launch executable programs stored on the flash drive, giving access to a thriving NDS home brew scene. Check out the MAX Media Player's own mini-site at http://us.codejunkies.com/mpds/index.htme or do a Google search for "DS home brew" and you'll find all sorts of downloadable applications, games and emulators for your new handheld. How cool is that?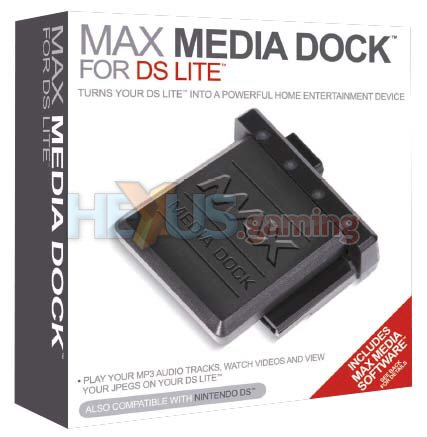 Sold in three versions, MAX Media Dock for DS and DS Lite is available bundled with 1GB or 2GB Compact Flash card, or there's the cardless Base Version for those who already have a Compact Flash card.

MAX Media Dock for DS and DS Lite is in the shops this week, and can also be bought direct at www.codejunkies.com or by calling 08456 010 015. Prices are as follows:

Base Version, no CF Card: £29.99
With 1GB CF Card: £54.99
With 2GB CF Card: £84.99