With any franchise that spawns a regular yearly release comes the question: what's new, other than the obligatory graphical enhancements and tiny tweaks…and is it worth the upgrade?

With the MotoGP series, Capcom has been very keen from the outset to let everyone know that fans won't just get a palette swap this year, but will be treated to a remodelled experience that takes into account all the real-world changes to the 2010 MotoGP season, as well as plenty of added extras.

The most notable change over the last game in the series is the decision to give players the option to play either a hardcore simulation of the sport, which it adopted when it took over the franchise from THQ in 2008, or take an arcade approach. On the track, Capcom tells us that the handling system has been vastly improved to provide a tight simulation experience that mimics the real-world physics involved in bike racing. However, the developer has also been clever enough not to alienate any players new to the franchise, or those who don't like that trickier style, by putting customisation firmly into your fingerptips to cater for different driving styles. By tweaking player assists, you'll be able to set up your preferred driving style based on your skills or preferences around the track.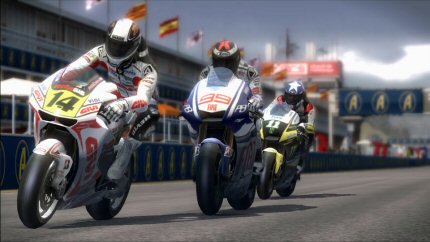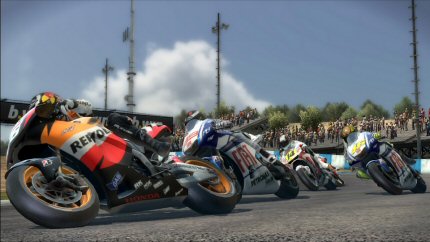 The addition of a local co-op mode, which allows another player via split-screen to play as part of your team during Championship races, is another big surprise this year that should add some replay value outside of the game's "Championship', 'Time Trial', 'Challenge' and 'Career' modes. This will feature alongside what the developer calls the "most robust online mode in a racing title, which caters for up to 20 players who can race competitively online. They'll also be the option to jump into a spectator mode while you're waiting for a race to start to check out the opposition.

Alongside graphical tweaks and improvements to audio, which now features sounds from real life MotoGP bikes, MotoGP 10/11 looks set to deliver the most complete title in the series thus far. There's not long to wait to find out either- MotoGP 10/11 is due for release on March 18, 2011 with free DLC planned to coincide with the start of the 2011 MotoGP championship.

Check back for a full review shortly.