Release date - May 2011
F.E.A.R 3 (stylised as F.3.A.R) looks set to continue the F.E.A.R. brand legacy by once again delivering a paranormal horror, first person shooter that delivers frenetic combat and plenty of thrills and spills.

The story goes... Nine months ago, Point Man and his F.E.A.R. squad were tapped to stop a telepathically gifted cannibal who had begun a murderous rampage. Point Man learned the target was his brother, Paxton Fettel, working alongside their tortured and psychically powerful mother, Alma Wade. Despite this revelation, Point Man followed orders to destroy them and subsequently ravaged the surrounding city and most of his F.E.A.R. team.

Now, it is clear that Alma's psychic influence survived— and worse, she is about to birth something that could destroy the world. Fettel has returned from death with an unclear agenda, refusing to leave Point Man's side and asking for help to reach Alma. The remaining F.E.A.R. squad is still trying to complete their mission. With his chain of command broken and Point Man calling his own shots, where will his allegiance lie?

The game world is tainted by the Almaverse, the alternate dimension where Alma's psychic essence subsists. New sinister and fantastical enemy creatures birthed in Alma's warped mind spill into reality and intensify the panic.

Proprietary technology creates random scare events to increase the feeling of isolation and unpredictability when playing alone or with a friend, and offers new experiences each time gamers play through.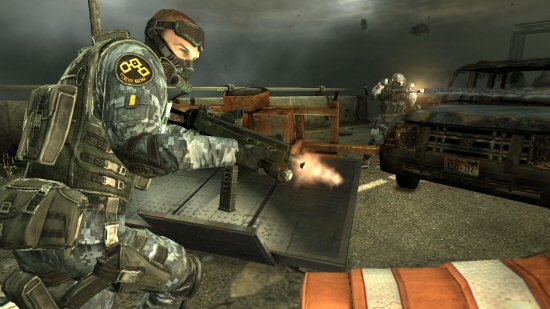 Masters of Horror: Legendary horror film director John Carpenter and horror writer Steve Niles provide their expertise and guidance to try and take F.3.A.R.'s intensity to the next level. Niles co-wrote the twisted storyline that reveals the motivations and family dynamics of the main characters, and Carpenter helped craft the cinematics for maximum storytelling and fright factor.

The biggest new addition is the introduction of Divergent Co-op for two players: gameplay that gives players distinctly different abilities that affect their own play as well as the experience of gamers they are playing with…or against. Players can take on the roles of Point Man, a genetically enhanced soldier with superhuman reflexes and the ability to manipulate time, or the undead spirit of his brother Paxton Fettel, a paranormal entity who possesses incredible psychic powers. F.3.A.R.'s frenetic combat experience will feature the likes of active 360 degree cover, evolved slow-mo modes, phasing portal systems and best in class mech combat to face an army of soldiers and paranormal enemies that don't follow the rules of reality.

F.E.A.R 3 is due for release in May 2011 on PC, Xbox 360 and PS3.

Continues overleaf...