Challenging strategy game
Meteor storms, earthquakes and tidal waves devastate the Earth, causing 90 percent of the world's population to perish. The sky has been blocked out by ash, yielding little sunlight. In a world ravaged by a domino effect of catastrophic events, those lucky enough to survive are divided into warring factions fighting to drive the direction of a new civilization.

As the CO of an army you must defeat the enemy army by either destroying all their units or taking over there HQ building, although dependant on the stage there could be further rules of victory. Each stage brings a new map, and challenge, as the CO of the army you will need to take control of your units and understand there strengths and weaknesses in order to attack the enemy efficiently.

Check out some of the features:

Advance Wars: Dark Conflict features intuitive but challenging strategy game play that will test players' mettle through a deep Story Mode and more than 100 Free Battle maps. In addition to mainstays of the Advance Wars military, new units such as the Motorbike and Flare make their debuts.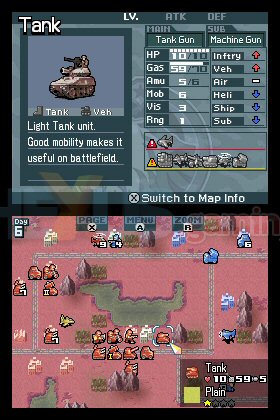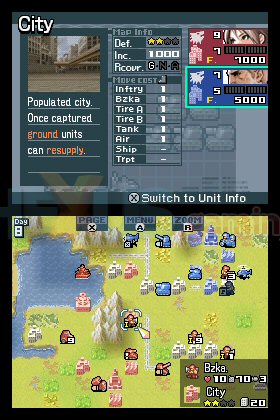 • More than 60 exciting single player missions.
• Within Story Mode, players can play through an additional 38 Trial stages. Although independent of the Story Mode, the Trial stages add much to the game play challenge and depth.
• New strategies also emerge by way of the Command Zone. For the first time, a Commanding Officer can enter one of the units, and by doing this, he or she creates a Command Zone.
• Create your own maps and share them with your friends or upload them to Nintendo Wi-Fi Connection.

Advance Wars: Dark Conflict is due for release on January 25th.