Sky readies broadband movie & sports video-downloads




Satellite broadcaster Sky is getting ready to introduce a broadband movie and sports video-download service -

Sky by broadband

- for its premium subscribers in the UK and Republic of Ireland.



Like AOL's free-to-all, high-quality download service In2TV – now on open trial (see our hands-on report) - Sky's offering requires Windows XP and uses the "secure" peer-to-peer manager Kontiki. It should also provide reasonable quality but perhaps not to the high standard of AOL's Hi-Q Video footage.

Movie downloads will be free to Sky digital customers with Sky Movies 1 and 2 subscriptions. Sports videos will be free to customers with Sky Sports 1 and 2 subscriptions. As yet, there looks to be no plans to offer downloads as separate chargeable services to non-premium subscribers. Indeed, judging from the Sky by broadband site, the idea is to entice new customers to Sky's premium services.

The company says that hundreds of films from the Sky Movies channels will be available - including Hollywood blockbusters - with the list growing to cover a wide range of genres and interests. Sports content, seemingly, will be limited to highlights along with news videos and breaking stories. Football, rugby, cricket and golf will be among the sports covered.

Exactly what's available for download will depend on the deals Sky is striking with movie distributors and organisers of sporting events – and about that there is little information.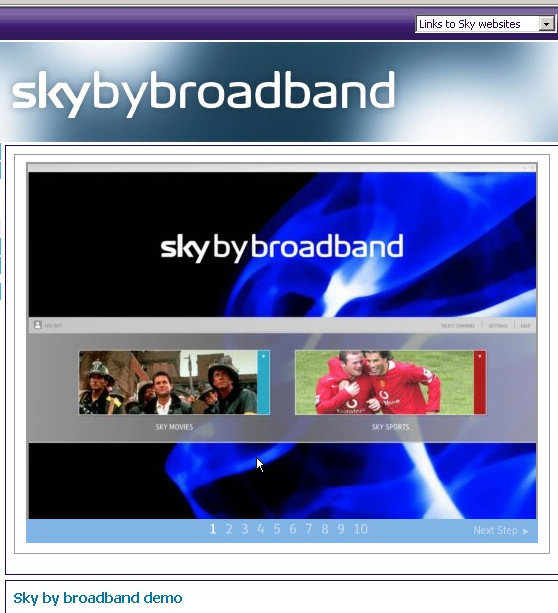 Choosing between downloading movies or sport videos



According to Sky, downloaded content can be watched any number of times, with most movies viewable for 30 days and most sports videos for seven days. Videos will be at a resolution of 540x432 pixels. They'll be in Windows Media format and encoded at a variable bit rate of 860kbps.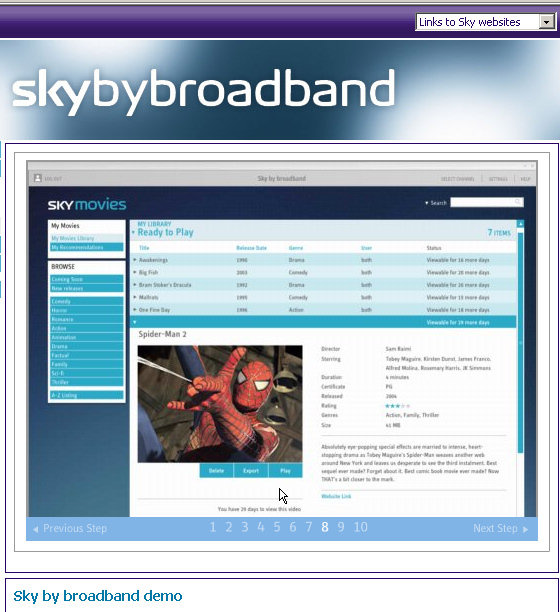 Downloaded movie in library ready to play