Tech specs in a gripe-free zone

One problem with new toys that use rechargeable batteries is that you've got to wait hours for them to come up to power before you can start playing with them.

Happily, though, the two NiMH rechargeable batteries included in pack were partially charged (thanks Marco!), so we didn't have to contain our excitement for the 14 hours that the guide said we'd need to wait first time round.

But you, dear reader, probably won't be so lucky and really should follow that advice to the letter.

Everything you need to get going is included and the initial cable connections are ultra simple.

The box contents are:



* The phone itself

* Two NiMH (750mAh) AAA-size rechargeable batteries

* The battery cover for the phone (this is not attached, so fitting the batteries is a doddle)

* A small charging cradle for the phone

* A base-station that connects to the phone line and your network router - yes you

must

have a router and an internet connection to use Skype

* Two plug-mounted mains adaptors - one for the base-station and another for the phone's charging cradle

* An Ethernet cable (to connect the base-station to your router)

* A phone cable (along with an adaptor so it fits a BT socket - not show in the pic below),

* The quick-start guide

* The CD with PDF manuals

* A voucher giving you 120-minutes of free SkypeOut calls and 12 months free Skype voice-mail (also not shown)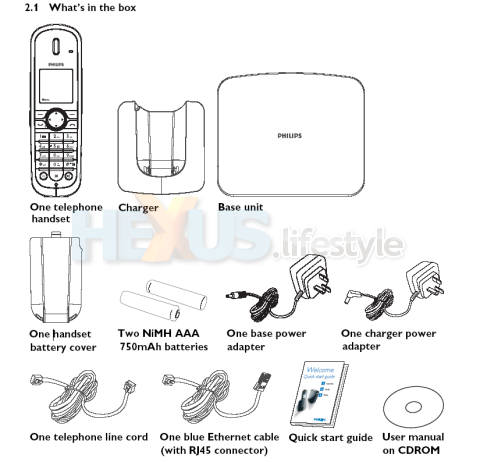 Lifted from the PDF manual (click for larger image)


A nice touch - and necessary in our view because of the different power requirements of the base-station and charger - is that it wouldn't be possible (without resorting to extreme force) to connect either mains adaptor into the wrong device, simply because their output plugs are of different sizes.



Specs - as quoted on

Philips' web site

- include:





Picture/Display

Backlight : yes

Backlight colour : White

Display colours : 65000

Main display resolution : 128x128 pixel

Main display technology : CSTN

Sound

Handset ringers : Polyphonic

Handset Volume Control : 5-level earpiece and loudspeaker volume control

Number of melodies : 5 Std and 10 polyphonic

Ring profiles : Landline/Internet distinction

Convenience

Backlit keypad : Yes (green)

Base station keys : Paging key

Call management : Call on hold, Call Transfer, Call waiting, Caller ID, Message Waiting, Microphone mute

Ease of Use : Graphical user interface, Keypad lock, Menu control

Handset keys : Two softkeys, Four-way navigation key, Dialling keypad, Hang-up, Line, Loudspeaker

Multi base capability : Up to 4 bases

Multi handset capability : Up to 4 handsets

Signal strength indication : yes

Speakerphone-Talk hands-free : Yes

User interface : Skype on LED

Connectivity

Headset : Via Jack Connector (Handset)

Memory Capacity

Name & number phonebook : 500 Skype entries

Network Features

Antenna : Integrated on base, Integrated on handset

Dialling : Pulse, Tone

VoIP Client Compatibility

Fully Integrated with Skype : Yes

Skype Certified : Yes

Softphone compatibility

Direct call from contacts list : Yes

Display contacts list status : Yes

Edit user status on the phone : Yes

Add new contacts from handset : Yes

System Requirements

Internet connection : Broadband access through Modem, router or switch/hub

Power

Battery capacity : 750 mAh

Battery type : AAA NiMH

Battery type : Rechargeable

Mains power : AC 220-240V - 50Hz

Number of batteries : 2

Standby time : Up to 120 hours

Talk time : Up to 12 hours

Oh, and here's another lift from the manual, showing stuff like socketry and indicator lights on the base-station and the display icons on the handset.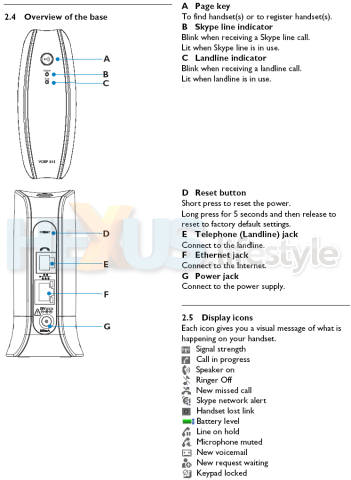 So, in theory, the VOIP841 is offering lots and lots of good stuff. But how well do theory and real-world experience coincide? Find out on page three...