Joining the party
The Android smartphone space is currently dominated by HTC and Motorola. Both have committed heavily to the Google OS and currently have popular models like the HTC Desire and the Motorola Milestone on offer.
LG is a phone-maker we have previously associated more with mass-market feature-phones than high-end smartphones. So when it announced it was belatedly entering the Android market at the start of the year, we figures the LG GW620 would pretty much be a 'me too' product.
The fact that it runs a relatively old version of Android - 1.5, otherwise known as 'cupcake' - when the latest Android phones use version 2.1, added to our initial pessimism. But open-mindedness and objectivity are among our many middle names here at HEXUS, so soldiered stoically on regardless.
The device itself is conspicuously small compared to many of its contemporaries, sporting a mere three inch resistive touchscreen. The interface is pretty minimal, with a multipurpose iPhone-style hard button flanked by touch-buttons - if such a thing exists - for navigating to the home screen and back from wherever you are, respectively.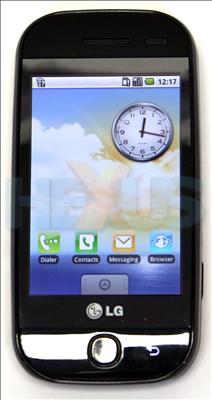 The back just has the 5 MP camera and single-LED flash. It's made out of that faintly grippy textured plastic that makes holding the phone a bit more reassuring. It might seem like a small thing, but the back was relatively easy to take off, unlike some other handsets we've reviewed. Inside things like removing the battery and SIM card were all pleasingly easy too.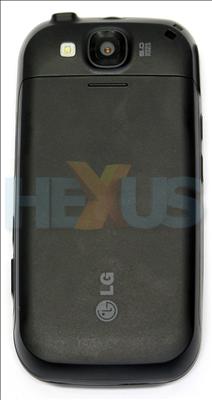 On the left-hand side of the unit there's a micro USB port with a cover that looks likely to stay attached for a while, and volume keys. On the other side there's a micro SD slot - again covered - and buttons to activate the music-player functionality and take pictures with the camera. The camera shutter button doesn't activate the camera, however, but that's probably for the best.


The top has a combination on/off/lock/unlock button and a standard headphone port. There's also a couple of holes in the unlikely event of you wanting to thread some string through them and wear the phone like some kind of ludicrous necklace. The bottom is barren and featureless.

The hardware feature we found most noteworthy is the slide-out QWERTY keyboard: it's got five lines. Gosh! We hear you gasp, but this is quite handy. Basically it means you don't have to use the 'shift' or 'alt' or whatever key in order to type in numbers.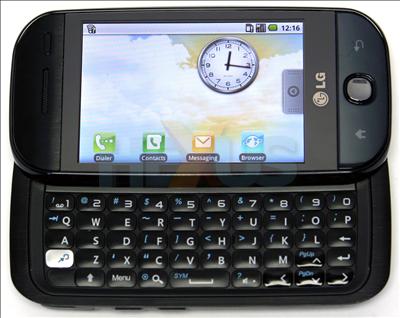 The fact that it's crammed into a relatively small unit makes the achievement all the more impressive, and we found the chiclet keys to be no harder to type on than any others we've played with. Other little touches like a 'Menu' button and a 'caps lock' LED are nice too.