Intro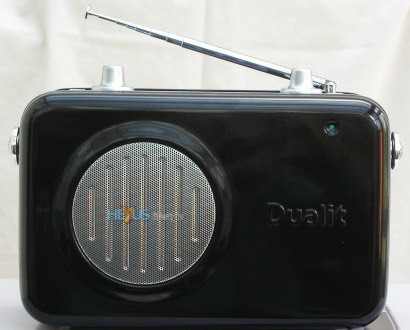 Dualit, a company best known as a maker of professional toasters and pro-look kitchen appliances for the home, is set to introduce a kitchen radio this month - one combining digital (DAB) and analogue (FM) reception. We had the chance to go hands-on with a pre-production sample and Bob Crabtree reports our findings.

If you're wondering why a toaster maker would want to add a radio to its range, the answer's easy. Dualit clearly reckons that the sort of people who pay out for its smart-looking, upmarket small appliances are gagging for a radio with the same look, quality finish and feel.

Leslie Gort-Barten, managing director of Dualit Ltd, said when the product was announced, "We believe that there's a gap in the market for a quality kitchen radio that coordinates with other high-end domestic appliances, yet stands out as unique in the sector. This radio certainly meets these requirements. It complements the rest of our collection and has been created for people who appreciate exceptional design, quality performance and reliability.

And, if he's right, the company's onto a good thing since the recommended price is £199.95 (inc VAT) - pretty hefty for a table-top model. Further underlining the target audience, the radio will initially only be available from John Lewis.

Rather immodestly, Dualit reckons that the snappily-named DAB/FM Kitchen Radio is "Destined to become an instant kitchen classic" and incorporates "advanced technology" to deliver excellent sound quality from DAB and FM reception.

So how do those claims stack up? Well, we'll start into that overleaf and also run through some specs and some of the highlights from the features list.