Evesham V32EMRO-ZE3 specs. and initial thoughts
Let's trot out the specs. first.


| | |
| --- | --- |
| Display name | Evesham V32EMRO-ZE3 |
| Screen size | 32-inch |
| Aspect ratio | 16:9 |
| Resolution | 1366x768 pixels |
| Overall dimensions (inc. speakers) | 964mm x 580mm x 240mm |
| Viewable area | 708.9mm x 398.5mm |
| Contrast ratio (claimed) | 1000:1 (typical) |
| Brightness (claimed) | 550cd/m² (typical) |
| Vewing Angle | +/- 176o |
| Tuner | Analogue |
| Response time | 8ms (grey-to-grey) |
| Teletext | 255 pages |
| AV I/O | 2x RGB-capable Scart, Composite Video, S-Video, Component (YPbPr), HDMI 1.0/HDCP, D-Sub |
| Line Out | Left, Right, and Subwoofer |
| Other features | Picture-In-Picture (PIP), Picture-On- Picture (POP), sleep timer |
| Weight | 18.5kg |
| Warranty | Evesham 3-year in-home swapout |
| Price | £749 including VAT and delivery |


The prices of LCD TVs has fallen dramatically in the last six months, with a number of big-name manufacturers offering their low-end 32-inch models for under £1,000. Even with that in mind, Evesham's HDMI-equipped V32EMRO-ZE3 is attractively priced at £749, which includes delivery and a standard 3-year on-site warranty. The spec. table also lists a decent number of inputs, making it a multi-purpose display.

Evesham's packaging for its V32EMRO-ZE3 was excellent, with the display snugly sandwiched between 3 holding polystyrene sections. With a pre-fixed table-top stand it's just a case of lifting the 18.5kg display out of the box and placing it on your stand of choice.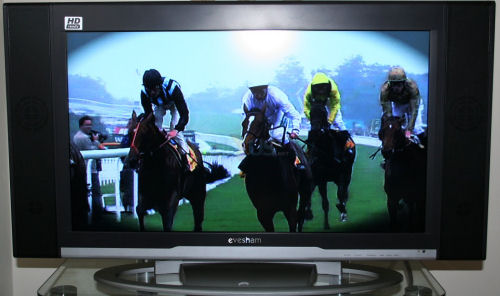 The V32EMRO-ZE3 is a reasonable-looking set that appears to be larger than the 32 inches quoted, mainly down to the overall dimensions being increased by the non-removable speakers on each side. Remember that LCD TVs' measurement is often the actual viewing area, unlike CRT TVs where manufacturers list optimistic screen sizes whose viewable area can be between 5-10% below the quoted size. Coming back to the display, the use of side-mounted speakers makes the V32EMRO-ZE3 wider and squatter that most other comparable TVs, where the speakers are mounted below the screen.

The off-black and silver colour scheme works well enough, but the plastic surround looks and feels a little cheap when compared to the stylish offerings from the likes of Samsung, LG and Sony. CMO (Chi Mei Optoelectronics) manufactures the LCD panel itself. Never heard of it? Well, CMO produced 5.5-million panels in 2005 alone. It plans to ship 10-million units this year.

The prominent HD-ready sticker is fully deserved in this case. The wide-aspect display features a native 1366x768 resolution and an HDMI (High-Definition Multimedia Interface) with inbuilt HDCP (High-Definition Copyright Protection). The table-top stand doesn't feature any height or pivot adjustment, so viewing height is dicated by the height of your own stand. It can be removed, however, and the panel complies with VESA specs and can be mounted on a wall, for the ultimate bling factor. Evesham lists a compatible bracket, priced at £39.99, on its LOW website.





The front is devoid of any configuration buttons, and the usual place, on one side, is not taken up here. Rather, the eight plastic buttons are located directly below the small lettering, denoting their usage, on the lower right-hand side. The supplied remote controls the majority of functions, as you'd expect.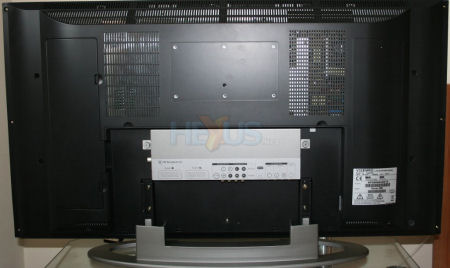 Turning it around to the back and removing the cover that hides the range of inputs, you can see integrated nature of the speakers. Interestingly, there's a main power button, located near the power inlet, that needs to be depressed before the screen will function. Eager users, in their haste for immediate LCD nirvana, may find simply switching on from the front doesn't do a great deal.





A closer look shows the impressive connectivity options. A couple of RGB-capable SCART sockets sit to the left of S-Video, Componenet and Composite inputs. To the right there's a collection of outputs for connecting up the TV to, say, external speakers. An RF input services the analogue tuner, meaning that there's no integrated Freeview on this model. Being of an inferior quality to a digital feed or even other analogue inputs, it should really only be used as a last resort.





There's another removable panel to the left of the main inputs. It's home to the single HDMI input that allows for digital transfer of high-definition audio and video from compliant devices. A 15-pin D-SUB input is reserved for PC usage (although there's no reason why you cannot transfer via DVI-HDMI) and a PC-based audio input finishes it all off.