Hardware
We'll start - as it's customary to do - with a look at the product.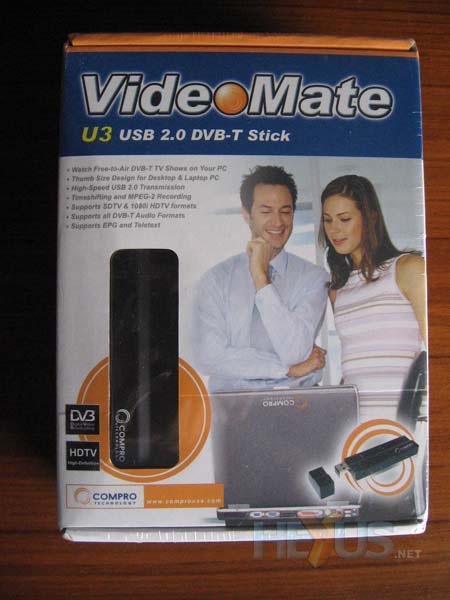 The box shot reinforces the fact this is a tiny, thumb-stick model.
Here's a rundown of the specification and requirements:
Layout
Dimension: 9.0 x 2.6 x 1.1 cm
Weight: 40 g
Interface: USB 2.0
Video/Audio System (Digital TV)
DVB Standard: DVB EN 300 744 Standard (DVB-T)
Video/Audio Formats: Video: MPEG-2 Main Profile & Main Level / Audio: MPEG-2 Audio Level I & II
Tuner
Impedance: 75 Ohm
Frequency Range: 48.25 - 863.25 MHz
COFDM
FFT Size: 2K or 8K
Punctured Codes: 1/2, 2/3, 3/4, 4/5, 5/6, or 7/8
Bandwidth: 6, 7, or 8 MHz
I/O Connector
External: Digital TV input & USB connector
The device and software are said to require a 600MHz CPU for TV viewing, 833MHz for recording and time shifting, and 2.4GHz for viewing and recording HDTV stream - not applicable in the UK right now. USB 2.0 is a must and a minimum of 128MB RAM is recommended, although we'd suggest 256MB as a bare minimum for just running the Windows XP Operating System smoothly. You can check out other info about the U3 on Compro's web site.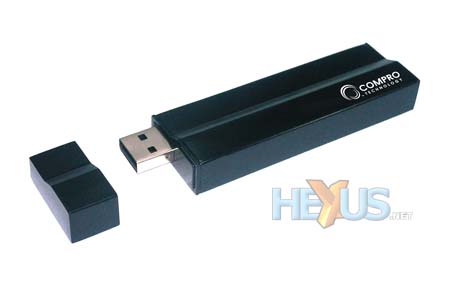 The U3 is thinner, but slightly longer, than Terratec's tuner. The difference isn't significant - the device is just as portable. The finish is shiny black and the casing is metallic rather than plastic. This makes for one rugged-looking bit of kit.
Nonetheless, care should still be taken around the USB connector, as that's usually where there's most risk of wear and tear and eventual breakage. The cap for the connector is the same colour as the tuner, but is plastic.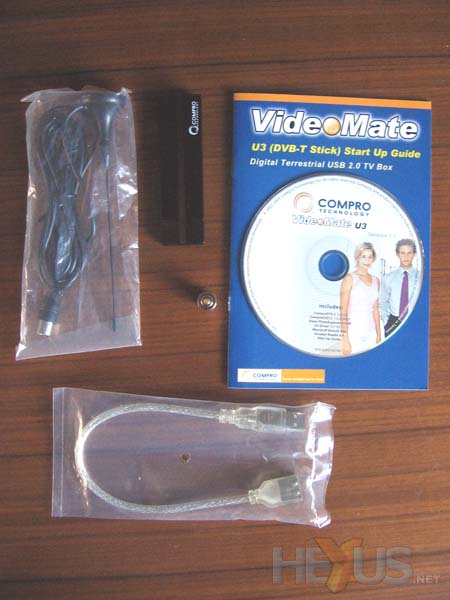 Included in the bundle is a USB extension cable, the antenna we've become accustomed to in TV tuner bundles, a user guide, a software installation CD and an adapter for connecting a standard coaxial plug up to the tiny socket at the rear of the U3.
Disregard the small adapter plug that you can see in the picture above. We were later sent a better adapter (pictured below), Compro advising us that the one we received had been bundled by mistake and that the replacement is what will ship.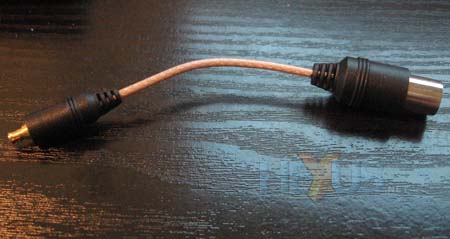 The short length of wire between the two ends of the connector means you can hook up a fairly rigid coaxial cable (from a roof antenna, perhaps) to the U3. Even so, the connection itself has its limitations. It's very small and so needs to be treated with care. It does seem to fit snugly but we did have to jiggle it around a bit before we could get a connection with the antenna and thus a television signal.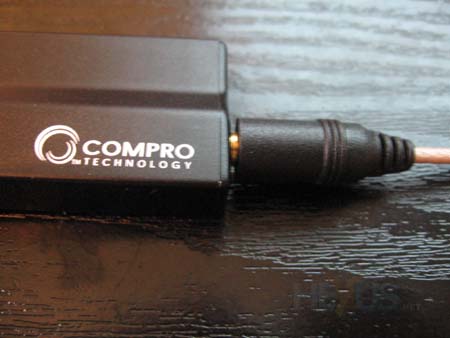 Impressions of the hardware are mostly good. It's nice to have a solid case on a device like this. The U3 also looks quite good, not that it's going to be the centre of attention for long. There is only one let-down as far as physical design is concerned - that aerial socket, we'd prefer to see a more secure, durable connector used.