Introduction
Creative TravelSound Review
Portability, by its very definition, is usually a compromise between form and performance. The smaller you wish to make something, the more you have to concede to the performance Gods. A case in point in the quality of sound reproduction on portable devices, whether they be mobile music players, PDAs, and to some extent, laptop computers.
Although the art of sound reproduction has come some way in recent years, the quality of on-board speakers, quite understandably, is below par. After all, designers are limited by space requirements.
One method of achieving better sound output is to connect small, external speakers to your unit. These units usually feature a more proficient set of speaker drivers, optimised for working in smaller spaces. These aftermarket, add-on speakers have become almost indispensable to those looking for a better sound.
Creative, no strangers themselves to producing quality speakers for PC use, recently sent us their interpretation of how speakers on the go should look and perform. Their midrange PC speakers are noted for providing a decent compromise between value and performance, so let's see if their mobile speakers, which come under the heading of TravelSound, can continue that theme.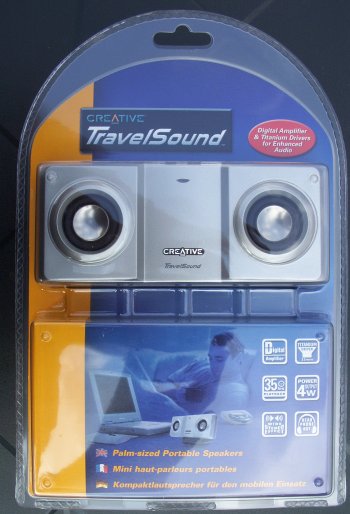 Brightly packaged, these speakers are a bit different from the norm. It appears as if they've been designed with a bit more care and attention than most. Let's have a look at the contents in a little greater detail.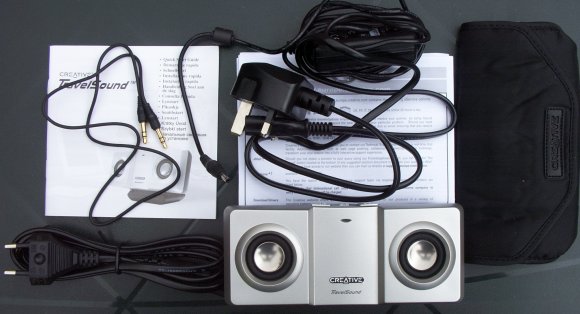 You receive the TravelSound unit, a rather fetching case, UK and European specification power cables, a universal power adapter, interconnect, and two instruction booklets. It's a pretty comprehensive package for what are essentially add-on speakers.
We'll have a closer look at the unit on the following page.