Usage and features
User interface
With so much functionality built into the unit, we had hoped that PURE would equip the Oasis Flow with a new user interface.
Unfortunately, what you get is almost identical to 2008's Evoke Flow: a 128x64 OLED touchscreen display that's bright but hard to read in direct sunlight, and two large dials.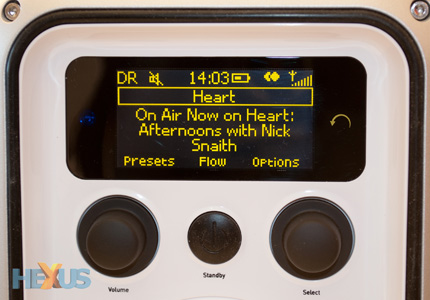 The combination of the two inputs - dials and touch-sensitive buttons - isn't intuitive, and constantly switching between the two as you navigate through a myriad of menus can become a frustrating experience.
And the touchscreen isn't quite what you'd think. Unlike the finger-friendly displays found on many modern electronics, the Oasis Flow's front-facing panel doesn't support gestures or swipes. Instead, the bottom of the display consists of three touch-sensitive areas that provide one-touch access to dynamic menu options. A fourth touch-sensitive shortcut to the right of the display acts as a back/return switch.
It takes some getting used to, but the initial frustrations aren't a long-term problem as the Oasis Flow does provide ample room for presets. 30 digital radio, 10 FM and unlimited internet radio stations can be added to your favourites, and though stations can be found by using an on-screen search, PURE makes the process simpler through its associated Lounge website.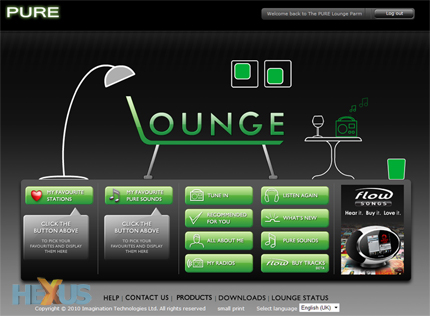 Using the free Lounge service, users can manage favourite internet stations - and believe us, it's a whole lot easier with a keyboard and mouse - as well as find listen again programs, podcasts, and PURE Sounds. Favourites managed on the web are then automatically synchronised to your registered radios.
It's a useful compliment to the hardware, but technophobics needn't be alarmed as the Lounge service is entirely optional.
Stick to using the radio's features from the device itself and you should find that everything beyond the tricky interface is as expected. Reception will vary from region to region, but here in Shropshire we found both DAB and FM reception to be excellent.
Similarly, connecting to a wireless network is simple - both the WEP and WPA/WPA2 encryption standards are supported - and the Oasis Flow was able to effortlessly stream music from a NAS box 30ft away.
If media streaming is what you're after, the Oasis Flow does a very decent job of hooking up to any UPnP server, but the list of supported file formats is limited to WMA, AAC, MP3, MP2 and Real Audio. That's most users covered, but fans of the lossless FLAC or WAV codecs aren't catered for.
Additional features
Being portable, the Oasis Flow needs to be suitable for any room in the house. If you plan on keeping it in the kitchen the majority of the time, you're in luck as you'll find an integrated kitchen timer that can be configured in hours and minutes.
The bedroom's covered, too, through two alarms that can be configured to wake to a radio station or PURE Sound of your choice. The latter, in case you're wondering, is a vast collection of ambient sounds ranging from chirping birds to arctic blizzards.
Taking music discovery a step further, the Oasis Flow also offers support for PURE FlowSongs - a new service that lets you identify tracks on any radio station and buy them directly from the radio itself. Purchased tracks are linked to your Lounge account and can be played back on the radio at any time or downloaded to your PC as a high-quality MP3. Tracks are generally priced at around 79p, but there is a small catch - FlowSongs is a subscription-based service priced at £2.99 per year.