Full fat or mini?
A.C. Ryan manufactures its Playon!HD media streamers in two distinctly unique flavours; the £129.99 Playon!HD and the £89.99 Playon!HD mini. So which one's for you?
Choosing between the duo should be straight forward enough, but before we break down the differences, let's start by taking a closer look at the units in question.
Playon!HD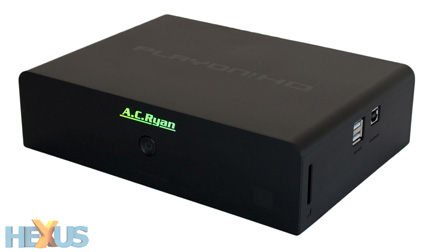 The Playon!HD is a simple-looking box with just a single, centred power button, and at 227mm x 165mm x 60mm in size, it's conveniently small too.
You shouldn't have any difficulty in housing the unit in an AV rack and it looks suitably subtle with a matte-black shell and a glossy front face.
In addition to offering network playback, the side of the Playon!HD is equipped with a couple of ports that help enhance the unit's local capabilities. Through a 5-in-1 card reader and two USB 2.0 ports, users can attach external storage media for quick-and-easy playback. There's a USB Slave port, too, which enables the Playon!HD to be easily hooked up to your PC.
So far so good, and it gets better when you take a look at the rear of the unit.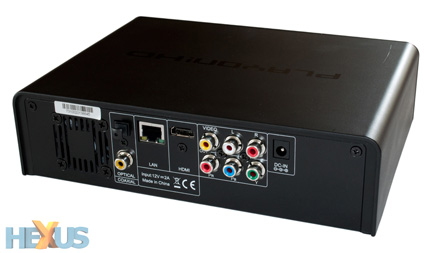 Providing a surprisingly comprehensive selection of connectivity options, the Playon!HD comes equipped with HDMI 1.3, component, composite and optical and coaxial S/PDIF outputs.
Ensuring that you're able to get up and running right out of the box, A.C. Ryan also bundles the relevant cables; composite, component and HDMI.
A 1080p full-HD resolution is supported by the Realtek chipset within, as is the ability to playback high-def content at a native 24Hz, but the unit falls short of top marks with a limited 10/100 Ethernet port and no built-in wireless functionality. For the latter, A.C. Ryan offers an external Wireless N USB adaptor that'll set you back a further £20.
There's also a small 40mm fan in place to keep the unit's innards cool when in use. It's by no means noisy, but it can certainly be noticed when watching movies with quiet scenes.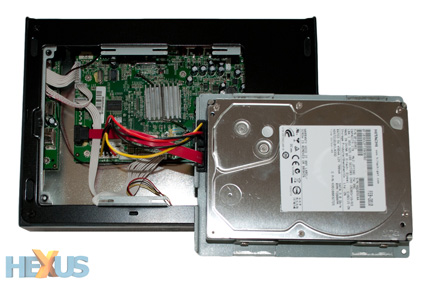 But there's a good reason for the fan's presence; it's used to cool a 3.5in hard disk that can be added to the receiver by opening an access panel at the base of the unit.
The Playon!HD supports any 3.5in drive at up to 2TB in capacity, and though the £129.99 asking price ships drive-free, the receiver can be purchased with pre-installed drives. Pricing ranges from £150 for a 500GB model to £230 for a 2TB solution.
With a drive installed, the receiver can store content locally as well as act as a network-attached storage server. The added functionality can prove to be useful, but we found the extra noise created by the spinning platters of a traditional hard disk to be slightly off putting.
However, if silence is paramount to your living-room media experience, the Playon!HD mini should be right up your street.
Playon!HD mini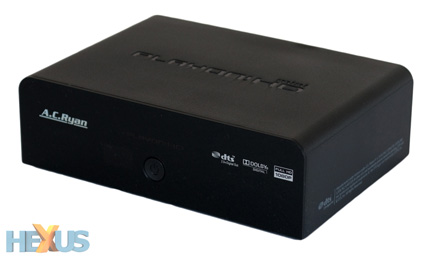 As the name suggests, A.C. Ryan's mini variant is tiny in comparison to its bigger brother, measuring in at just 151mm x 102mm x 42mm.
Yet despite the shrink in size, there's not a whole lot changed in terms of functionality.
The Playon!HD mini loses its ability to house an internal hard disk, there's no memory-card reader or side-mounted USB ports, and the bundled equipment no longer includes a component cable. But that's about it.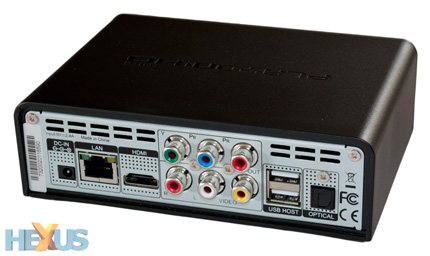 The mini back panel is almost every bit as comprehensive as the full-fat Playon!HD - with coaxial S/PDIF being the only connector failing to make the cut - but there is one significant advantage to the mini, too; it's passively cooled and has no internal fans.
As a result, the receiver is practically silent in operation.
Which one's for you?
So how do you choose between the two? Well, if you need internal storage, the ability to read SD/SDHC/MMC/MS/MSPro memory cards or coaxial S/PDIF output, then the Playon!HD's for you.
If not, the Playon!HD mini is quieter in use and costs £40 less. Your specific requirements will dictate the decision, but we've a feeling the majority of customers will favour the mini.
But before you rush out and buy, there are a few minor quirks we'd like to point out. Both the standard and mini models feature a backlit Playon!HD logo on their front faces - it shines red when in standby, and blue when the device is in use.
When watching movies in a darkened room, the unit's surprisingly bright logo can prove to be an annoying distraction. Furthermore, the remote also sports a bright-blue LED that unnecessarily assaults the eyes whenever you press a button.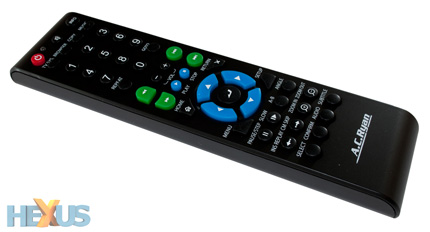 Aside from the needless LED, however, the bundled remote provides all the functions you'd expect and it feels comfortable enough to use.
We're not at all sure about the garish red, green and blue accents, though, and does one remote really need three different buttons for enter, select and confirm?
But we're nitpicking, the fact that we're complaining about the remote's colour scheme suggests that A.C. Ryan's hardware is almost exactly what you'd want from a media player; small, compact and unobtrusive.