Specification and contents
Compro Network Media Centre T1000W
TV System
DVB-T
Video Container
AVI, MPG, ISO*, VOB*, MOV(h.264), TS, ASF, MKV
Video Codec
MPEG 1 / 2 / 4, WMV9(MP@HL), h.264(HP@4.0), AVCHD, VC-1(MP@HL)
Audio Formats
MP3, WMA, PCM, WAV
Image Formats
JPG
Subtitle
SRT, TXT, SMI*, SUB*, SSA*
Resolution
Up to 1,920 x 1,080p
File System
FAT32 and EXT3 (Read/Record), NTFS (Read only)
Video Output
HDMI 1.3a
Component
Composite
S-Video
Audio Output
HDMI 1.3a (share with video)
Digital Bitstream output: S/PDIF, Toslink
Audio Out
HDD
3.5in SATA up to 1.5TB (not included)
Connectors
TV Connector
o DVB-T signal input
Video Connectors
o HDMI out
o Component (Y, Pb, Pr) out
o S-Video out
o Composite Video out
Audio Connectors
o Audio-FL out
o Audio-FR out
o HDMI (shared with video)
o Co-axial Audio out
o Toslink Audio out
USB Port Connectors
o USB Female x 3
LAN Connectors
o Ethernet 10/100M port
o WLAN antenna connector (SMA)
Power Connector
o DC in
Dimension
270 (H) x 180 (W) x 180 (D) mm
*Through future firmware updates
Looking at the spec sheet alone, Compro's T1000W looks a well-rounded solution with an array of connectivity options rarely found on a device of this size. With HDMI, Component, Composite and S-Video output, it has the majority of users covered - there's even S/PDIF output for those with heightened audio requirements.
There's support for full-HD 1080p video, and the T1000W will playback the majority of formats thrown its way - including H.264 video and MP3 audio. Though most users will be content, there are formats currently missing from Compro's supported list - most notably the Free Lossless Audio Codec (FLAC) and a complete lack of support for playlists - but the Taiwanese manufacturer insists support for additional formats will be introduced via upcoming firmware updates, so here's hoping.
Thinking of using the T1000W as a DVR? Be aware that the device supports 3.5in SATA hard drives, but none are included as standard. For a 500GB drive, users will be looking at roughly an extra £35 on top of the initial outlay. What's useful is that the T1000's slender frame allows for a 3.5in drive to be installed within the unit itself.
A trio of USB ports allow for easy storage expansion, and network connectivity comes in the form of 802.11b/g Wi-Fi or 10/100Mbit Ethernet. We'd have liked to have seen 802.11n Wi-Fi or Gigabit Ethernet, but a wired connection should be sufficient for general use.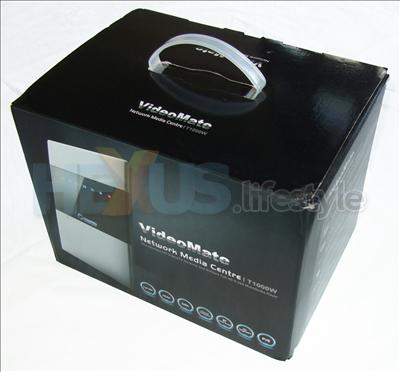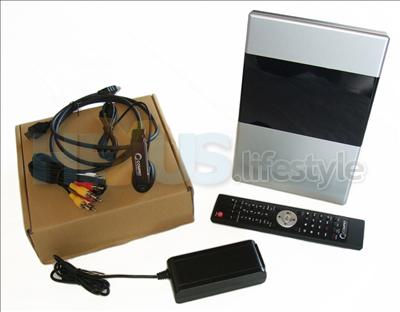 Inside the box, you'll find the unit itself, a remote control, a HDMI cable, composite cables, a TV antenna, and a power adaptor (in a hopefully isolated incident, ours shipped without a kettle plug power cable).