The PURE EVOKE Flow
At first glance, users will immediately notice that the EVOKE Flow's ostentatious design is a distinct variation to the traditional PURE veneer styling.
Whilst sticking with the tried-and-trusted rectangular design - complete with left-sided single-speaker and touch-sensitive SnoozeHandle - the EVOKE Flow looks a whole lot more modern than PURE's other offerings. The glossy-black finish is accompanied by yellow lighting and the distinct contrast makes for a remarkably chic radio that oozes a sense of cool sophistication - without edging into vulgar territory.
Beauty, of course, is in the eye of the beholder, but the EVOKE Flow in our estimation is one of the smartest-looking radios currently on offer and built quality is of a very high standard.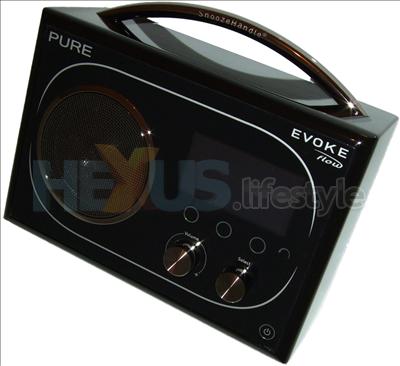 On the front face PURE has provided a large yellow-on-black 128 x 64 OLED display that ticks all of the right boxes. It's crystal clear to read at any viewing angle, will auto-dim based on lighting conditions, and it's large enough to require little need for scrolling text. It provides a choice of display modes, and the default option shows signal strength, volume, audio source, track information and the current time all on-screen at once. Time, incidentally, is automatically synchronised so you needn't worry about turning it off at the wall.
Below the screen are all the buttons and dials - seven in total, five touch-sensitive buttons that include power on/off and two essential dials. The touch sensitive buttons, although plenty responsive, are something of a personal grievance. They're a touch cool at first - excuse the pun - but with no tactile feedback you're often left wondering if you've actually pressed the desired button. The fourth touch-button, which acts as return, is notably awkward and requires a few pokes before it reacts - this could, however, be an isolated problem with our review unit.
In contrast, the dials - volume and select - are just about perfect. The silver finish is smart and they make light work of browsing menus, as well as providing the option to push-to-click.