The Geneva International Motor Show kicked off today and Apple had an announcement about a system which had previously been known as 'iOS in the car'. CarPlay is said to be a safer, easier and more fun way to use your iPhone in your car using steering wheel controls, Siri and the built-in in-car display panel. A long list of manufacturers which will support CarPlay has been published by Apple. Also Ferrari, Mercedes-Benz and Volvo will all have models including this iPhone linking system at the show in Geneva this week.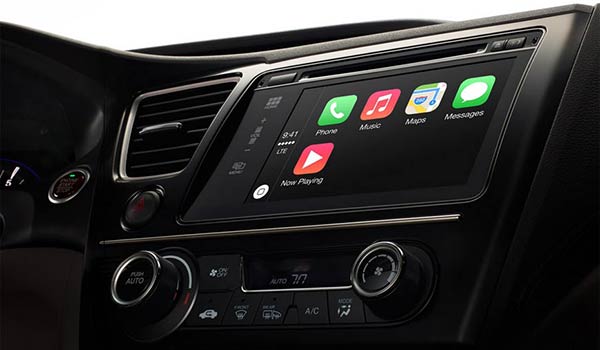 CarPlay allows you to intuitively control your iPhone to "make calls, use Maps, listen to music and access messages with just a word or a touch". You won't be touching your phone though – CarPlay links your phone to the car steering wheel controls and you can use Siri for voice commands too if you wish. CarPlay also makes use of the car's larger built-in display panel to present the info you need.
"iPhone users always want their content at their fingertips and CarPlay lets drivers use their iPhone in the car with minimized distraction. We have an amazing lineup of auto partners rolling out CarPlay, and we're thrilled it will make its debut this week in Geneva," said Greg Joswiak, Apple's vice president of iPhone and iOS Product Marketing.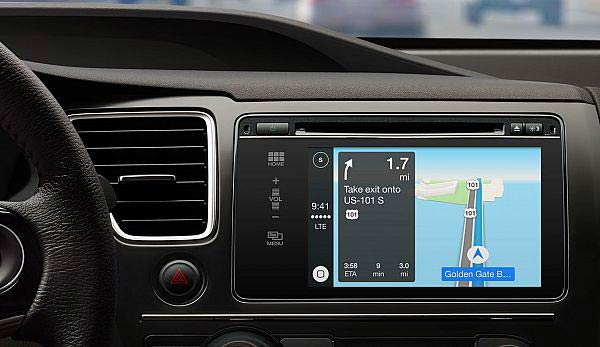 CarPlay main features
Communications: Siri allows you to accesses contacts, make calls, return calls and listen to voicemail. Also Siri can help you by reading out and taking your dictated responses to text based communications.
Maps: the mapping system anticipates destinations based upon recent emails, texts and friend's destinations. It offers routing instructions, traffic conditions and ETA info. Siri can also help you with spoken turn-by-turn directions. Maps will appear on your large in-car display panel.
Media: CarPlay also gives you in car access to all your music, podcasts, audiobooks and iTunes Radio. Control these using your car's built-in controls or ask Siri to navigate or control your library playback. Third party audio apps like Spotify are also supported.
To use CarPlay you will need and iPhone with a lightning connector and iOS7. Manufacturers joining Ferrari, Mercedes-Benz and Volvo in producing CarPlay automobiles include; MW Group, Ford, General Motors, Honda, Hyundai Motor Company, Jaguar Land Rover, Kia Motors, Mitsubishi Motors, Nissan Motor Company, PSA Peugeot Citroën, Subaru, Suzuki and Toyota Motor Corp.
Google Projected Mode
In a related development, a rival in-car system being developed by Google has been whiffed by the Engadget newshounds. The info comes from a job vacancy ad at Daimler in Germany. The advert is for a software engineer to help implement 'Google Projected Mode'. This system sounds like a dashboard docking system for Android mobiles. Much like CarPlay, the Android smartphone will then use the car's built-in display and controls for safely partaking in calls, messaging and media playback.