The news

On paper, Evesham Technology's iplayer looks to be one of the most exciting personal video recorders (PVRs) yet launched.

Of course, it has a Freeview digital terrestrial receiver built in and offers all the clever time-shift recording features you'd expect from a top PVR. But the iplayer boasts a whole bunch of extras that appear to put it in a class of its own.

The headline feature is its ability to upscale standard-def TV to HD (at 1080i or 720p) - and output it via HDMI.

But the iplayer is also said to be a network media centre that gives access to all the video, stills and audio on your PC, as well as being an internet browser that lets you compose, send and receive emails - and play Podcasts.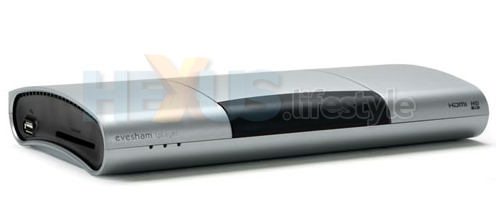 Significantly, it's even reckoned to be able to receive forthcoming catch-up TV services that are intended to give you internet access to programmes that were broadcast over the previous few days.





On the downside, the unit isn't cheap - £300 - and has an 80GB built-in hard-disk. That's said to be good for 70 hours of recordings but is rather smaller than we'd like.

We'll be seeing the iplayer in the flesh later in the day and will give you a reality check soon after. If things go to plan, we'll have product to test next week, and will bring you a full review at an early date.

In the interim, you have a good look at Evesham's press release on page two and let us know in this thread in the HEXUS.lifestyle.news forum any queries you might have or any checks you want us to carry out on the kit.



Update



Read this HEXUS.lifestyle.headline, Yes - Evesham's iplayer PVR does seem the stuff of wet dreams!, to discover our thoughts after seeing the iplayer in the flesh but don't forget to keep an eye on this forum thread where our hands-on experience are being reported in advance of the review going live.

HEXUS.links
HEXUS.community :: discussion thread about this article
HEXUS.lifestyle.headline :: Yes - Evesham's iplayer PVR does seem the stuff of wet dreams!
HEXUS.lifestyle.headline :: Evesham £150 sat-nav plays MP3s and stills; tracks speed cams
HEXUS.lifestyle.review :: Evesham Freeview personal video recorder PVR160
External.links
LOW - Evesham iplayer buying page