The news



Hauppauge's latest is a £100 twin-tuner Freeview TV card, the WinTV Nova-t 500, said to run on Windows XP Pro, Home and

Media Center Edition - and

be forward-compatible with Microsoft's forthcoming

Visa

operating system. It's available now, complete with

remote handset

.



Having twin tuners lets you record one Freeview digital terrestrial TV programme while watching another or record two channels at once.

Hauppauge reckons that the Nova-t 500 uses the latest tuner technology to provide "enhanced picture quality, faster scanning and operation and lower power consumption". And the supplied drivers are said to be Microsoft WHQL (Windows Hardware Quality Lab) certified.

The company's own software is included in the bundle. This lets Windows XP/MCE users watch and record TV, access a seven-day programme guide and convert recorded TV programmes for viewing on iPods and Sony PSP portable media players.

Re-purposed footage is said to match the player's maximum display capabilities and be optimised to save space on the player's hard disk.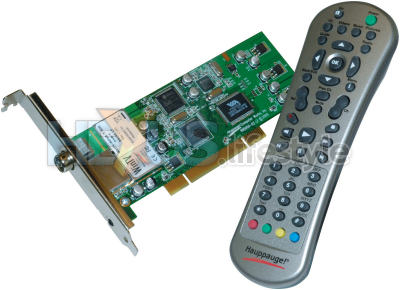 Hauppauge lists the Nova-t 500's system requirements as

:



* A Pentium IV processor - 1.2GHz or faster for TV-pause with full-screen playback
* WindowsXP Media Center Edition 2005, WindowsXP Home or WindowsXP Professional
* A free PCI slot
* A sound card
* A PCI or AGP graphics card (presumably that includes PCIe, too)
* A DVD decoder certified for use with Windows Media Center Edition 2005 if that version of Windows is used



Check out Hauppauge's press release on page two and share your thoughts with us in this thread in the HEXUS.lifestyle.news forum.


HEXUS.links
HEXUS.community :: discussion thread about this article
HEXUS.lifestyle.headlines :: Hauppauge TV Anywhere - low-cost rival to SlingBox?

External.links
Hauppauge UK - home page
Hauppauge USA - home page