Intro

Canon UK is planning a November launch for two pro-targeted, fixed-lens HDV high-def camcorders intended to sell alongside its £5,600 interchangeable-lens model, the XL H1.

As with the flagship camcorder, the two newcomers - the XH A1 and XH G1 - can record HDV in 1080/50i to MiniDV cassettes (MPEG-2 at 25Mbps) and use Canon's DIGIC DV II engine for HD processing.

UK prices have yet to be announced but in the USA, Canon's (over-optimistic?) estimated street prices are $4,000 for the XH A1 and $7,000 for the XH G1 - the extra buying HD-SDI output with embedded audio and timecode; genlock synchronization; and timecode in/out. In comparison, the XL H1 can be had stateside from as little as $5,300 up to $9,000.

HDV1080i isn't full HD resolution, it's 1440x1080 pixels rather than 1920x1080. However, Canon says that since the two newcomers use pixels with a native widescreen (16:9) aspect ratio of 1.333:1, video is actually displayed at full HD resolution. Sounds like jiggery-pokery to us, though!

According to Canon, the new arrivals mean that the company will be able to "offer a range of versatile HD camcorders designed for use by independent moviemakers, ENG (Electronic News Gathering) professionals, production houses and broadcast studios", and will "help to establish Canon as a major presence in the rapidly-emerging HD capture sector".

Our main reservation is whether or not the image-sensors, at 1/3in, and the associated lens are big enough to give sufficient quality and allow the depth of field flexibility that pros expect.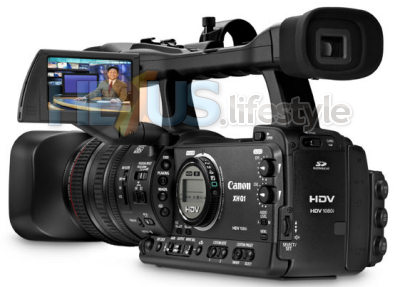 XH G1



Both cameras can also shoot at what Canon calls 25F - we'd call it 25P (25 frames per second progressive) - to prevent the sorts of artefacts that interlaced shooting produces.

The target here is digital film makers, though we suspect that US models that provide 24F rather than 25F, may be slightly more appropriate. But what's unclear is quite what form the 25F/25P mode (or indeed 24F/25F) is output as. We think that it will be 50 frames per second interlaced (50p) - and 60i in the USA - but believe it's possible that the more expensive model, the XH G1, may be able to keep things progressive if using its HD-SDI output.

No one at Canon UK, though, was available today to ask and all that's said in the information the company has issued is that the HD-SDI output allows "uncompressed video signals to be exported directly to external recorders".

The company describes the new camcorders as being "considerably more compact than comparable competitor models". We'd add that they also look to be far more compact that Canon's own XL H1, and almost certainly a whole lot easier to use handheld than the front-heavy range-leader.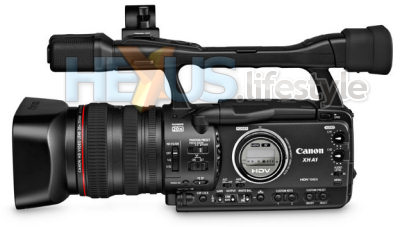 XH A1



Canon claims that all controls are positioned on the camcorder's body for intuitive operation. There are two monitors - a 2.8in LCD that, unusually, folds out from the top of the camcorder's body, plus a "generous" 0.57in viewfinder.

Also unusual - and very welcome, we'd judge, is the location of the rechargeable battery. The battery lives within the camera body and that's said to insulate it and allow longer shooting in cold conditions - something that shouldn't be forgotten is rather common in the UK, even while we swelter in the present extended heatwave.

Additional features, specs and links follow on the next page...