The Evesham Bluemedia BM6380 rewrites the rules as to how a satellite navigation system should look and work
The ultimate driving team
Evesham, England, 09th November 2005 - Evesham teams up with Destinator Europe to deliver the ultimate in-car navigation solution – The Evesham Bluemedia BM6380 PNA.
How many in-car satellite navigation systems offer all this?
The most up to date and accurate maps available
Integrated speed camera alerts
MP3 player and picture viewer
Touch screen or handset remote control
Slim, stylish, lightweight design
Pedestrian mode for off-roading in city centres
Full 7 digit postcode search
To create the ultimate in-car navigation system you need to team up a feature-rich, innovative device with the latest, most up to date software. Well that system is no longer a motorists' dream as Evesham delivers the Bluemedia BM6380, a state of the art remote controlled personal navigation system that's powered by Destinator ND – one of the most advanced mapping and navigation systems available. Together they provide the driver with an elegant, advanced and simple to use satellite navigation system.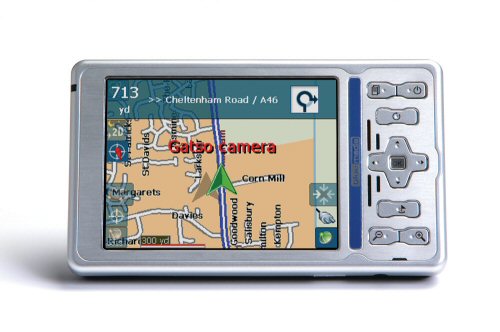 Superb hardware
The Evesham Bluemedia BM6380 rewrites the rules as to how a satellite navigation system should look and work. It sports a slim, lightweight and stylish design that will complement any car dashboard it finds itself on. The Bluemedia BM6380 is also simple to use with its 2D and 3D maps displayed on a high resolution 3.5inch 320x240 touch screen. It can be operated up close using the touch screen or at a distance via its accompanying user friendly remote control.
Instant entertainment system
And unlike almost all its rivals when you don't require its satellite navigation facilities the Bluemedia BM6380 can moonlight as an entertainment system. It can play any MP3s you have loaded on to it via its Secure Digital (SD) card slot (played back either via its on board speakers or listened to through earphones), as well as display photo images.
Accurate and up to date maps
In addition to its flexibility the Bluemedia BM6380 is one of the most up to date and accurate satellite navigation systems available as it features the innovative Destinator ND software from Destinator Europe. Finding your way using the 2D and 3D maps couldn't be simpler as the system has Q3 2005 Navteq maps – the most up to date available – pre-loaded on to its SD card.
Speed trap alerts
The Department of Transport places fixed cameras at recognised accident blackspots. The Destinator ND software includes speed camera alerts for gatso, mobile, specs and temporary speed cameras. This highly developed and accurate system improves safety by allowing you to monitor your speed when approaching these cameras.
Simple to install and use
The Bluemedia BM6380 featuring Destinator ND already has maps for the whole of the UK and Ireland on its accompanying SD card. To get it up and running you just plug the card into the system and the maps appear. There's no fuss and no additional activation procedures. You just type in the postcode or the address you want and leave the device to carry out the rest. Alternatively you can instruct the system to find a particular point of interest, like a hotel or a railway station, or create your own favourite destination list. You can even set up a series of destinations in the trip planner function.
Pedestrian option
Another huge benefit is that, with the flick of a switch, the device can operate in pedestrian mode, highlighting off road places such as traffic-free zones in city centres.
Satellite navigation systems are often compromised by second rate poor quality hardware, or mapping solutions that are already out of date. The Evesham Bluemedia BM6380 satellite navigation system and the Destinator ND software are both superb on their own. When combined they take in-car systems to another level.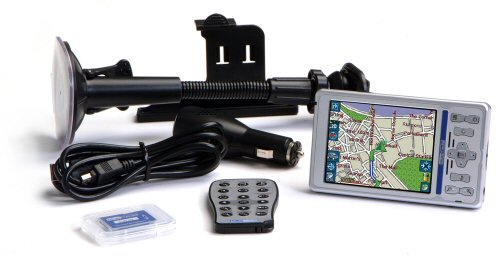 Availability
The Bluemedia BM6380 will be available in November with prices starting from £299.99 including VAT. Visit bluemediagps.com for a full list of resellers.