As Samsung and Apple prepare to go to court in the US over continued patent woes, it has been revealed, in what is to form part of Samsung's argument with regards to design similarities, that Apple also looked across the pond when it came to the initial stages of the iPhone's design.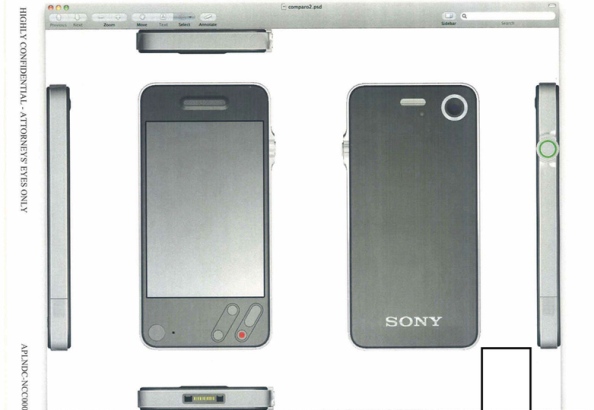 All was revealed in a filing made by Apple, in which CAD mock-ups of early design prototypes revealed a strong Sony influence, with one prototype actually bearing the word "Sony" on its rear, a prototype which appears to have been the foundation for the current iPhone 4(s) design, though, with the concept originally a contender for the original iPhone, designed back in 2004-2006, perhaps halted by technological limitations. Quite hilariously, at the time, senior Apple designer, Richard Howarth, stated the the design "looks old", when comparing against another design labeled 'P2' which appears quite similar to what is now the iPod Nano.
There were other designs, of course, as Apple had asked creator of the above design, Shin Nishibori, "What would Sony do?"; with some bearing a strong resemblance to Sony's CLIÉ line of PDAs at the time, whilst others borrowed small facets from various product lines. Ultimately, Apple did away with extra buttons, leaving only the Home button and significantly tweaked the design into something quite original, however, this goes a long way to making Samsung's point that, using a competitor's products as a starting point for design is almost an industry standard. The question, perhaps, is did Samsung create something original enough with its GALAXY line-up for it to be considered as doing the same?
For those interested, we highly recommend a Google image search for the remaining iPhone designs that have surfaced and of the various Sony products around at the time, to see if you can spot the similarities.