Only last Wednesday HEXUS carried the story about the Digital Economy Act (DEA) imposing a 'three strikes' policy upon detected illegal downloaders. A draft obligations code was published requesting that suspected copyright infringers get a warning letter each time they were thought to share copyrighted content online, a maximum of one letter per month. If the person continued to be naughty (three times in total) further action would be taken such as their details being sent to copyright holders, who could then track them down and prosecute.
The first line in the HEXUS article read, informatively "From March 2014 detected illegal downloaders will start receiving letters from ISPs letting them know they are suspected of copyright infringement." However some people have started to receive letters already! Suspicious? Definitely!
The Digital Economy Act news was all over the major news sites such as BBC News, The Independent and even The Mirror (but not the Sun, couldn't find a mention). While fresh in the average Brit's mind some 'enterprising' phishing email writers have been crafting a 'legit' looking letter, despite being partially written in pidgin or 'Google Translate' English.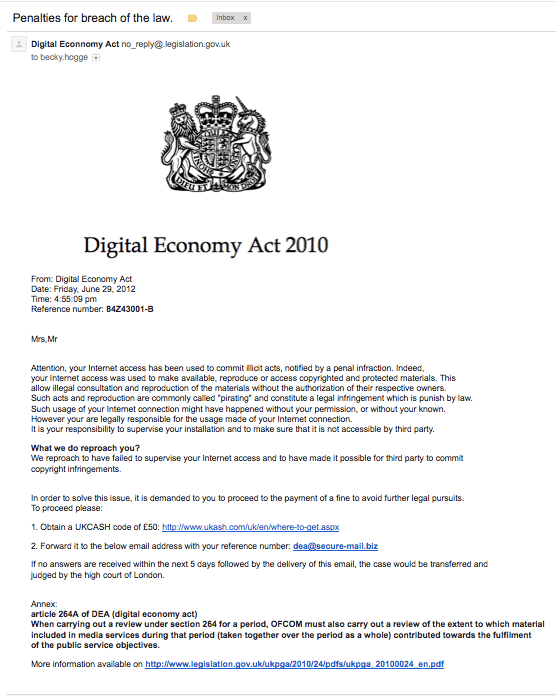 "your Internet access has been used to commit illicit acts"
One person thus accused of the crime of downloading dodgy stuff, Becky Hogge, helpfully placed a copy of the phishing email letter on her blog The Barefoot Technologist. So be warned that no one has got you 'bang to rights, red handed, it's a fair cop' if you are unlucky enough to suffer from this phishing scam spam (sent via an almost believable domain of ".legislation.gov.uk"). No letters will come until March 2014 at the earliest.