Yesterday the European Commission shared its decision to fine Google €4.34 billion "for illegal practices regarding Android mobile devices to strengthen dominance of Google's search engine". In essence, it claims that Google's practices breached EU antitrust rules put in place to protect customers and prevent unfair stifling of competition.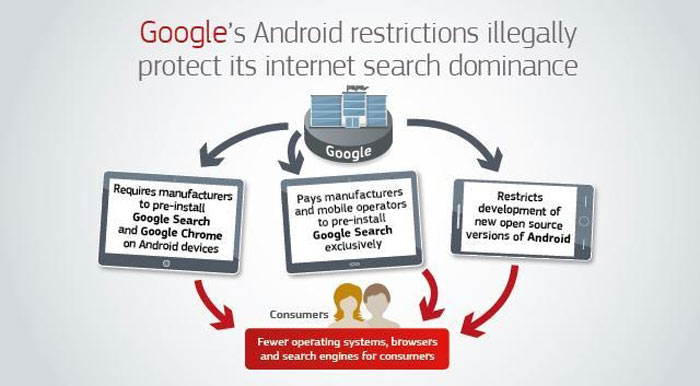 The effect of Android restrictions
Three particular points were highlighted by the Commission where Google has imposed restrictions on Android device manufacturers and network operators to ensure that traffic on Android devices goes to the Google search engine. In bullet point form the Commission made clear the illegalities under EU antitrust rules, as follows:
Google has required manufacturers to pre-install the Google Search app and browser app (Chrome), as a condition for licensing Google's app store (the Play Store);
Google made payments to certain large manufacturers and mobile network operators on condition that they exclusively pre-installed the Google Search app on their devices; and
Google has prevented manufacturers wishing to pre-install Google apps from selling even a single smart mobile device running on alternative versions of Android that were not approved by Google (so-called 'Android forks').
Ahead of the ruling on the fine, and deciding on the scale of the fine, Google had already put forward counter-arguments concerning the above three points. Respectively, Google has claimed; tying of the Google Search app and Chrome browser were necessary to allow Google to monetise its investment in Android, financial incentives for exclusive pre-installation of Google Search across the entire portfolio of Android devices was necessary, and its restrictions on manufacturers wishing to use Android Forks were necessary to prevent fragmentation of the Android ecosystem.
Google has previously been in trouble for its business practices in Europe. In 2016 the Commission came to the preliminary conclusion that Google has abused its dominant position in a case concerning AdSense. In 2017 the Commission fined Google €2.42 billion for abusing its dominance as a search engine by giving an illegal advantage to Google's own comparison shopping service.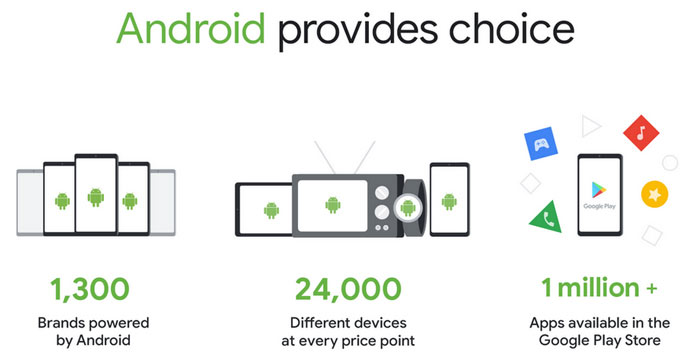 How Google sees things
In response to the EC decision Google's Sundar Pichai Tweeted that "Rapid innovation, wide choice, and falling prices are classic hallmarks of robust competition. Android has enabled this and created more choice for everyone, not less. This is why we intend to appeal today's Android decision". He followed through with a blog post which builds on the Tweet's argument.
Software vs hardware
Does anyone believe that the benefits of fast innovation, wide choice and falling prices could not have been enjoyed without Android? It sounds like a lot of those benefits come directly from the smartphone component hardware designers and Far East smart device manufacturers.
On the topic of the Far East, China, which doesn't play fair with Google as far as including its search and services on phones by default, might be a greater contributor to "rapid innovation, wide choice, and falling prices", depending on how you look at things. However, American corporations bend over backwards to please China - like crashing Apple iPhones that use the Taiwan flag emoji - so they should be more open to the business fairness demands of their allies in Europe.