Qualcomm is holding a 4G/5G Summit in Hong Kong, and a few hours ago it unveiled the world's first 5G modem. As it says in its press release this milestone hardware announcement crystallises what has been so far "just an ambitious collection of ideas about what the future of cellular systems," and leads the way with an actual 5G product, the Qualcomm Snapdragon X50 5G modem.
The X50 5G modem will offer an unprecedented wireless download speed of 5Gbps. In perhaps more familiar measurements, this will allow you to download up to 625MB per second.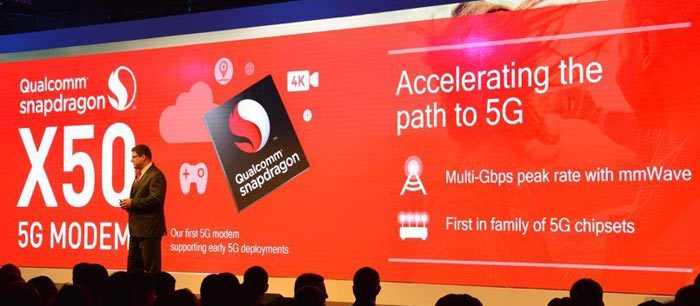 Qualcomm says that its 5G tech is based upon using the wide bandwidth available in the 28 GHz mmWave band previously unavailable for cellular use. It combines this with advanced signal processing, multi-element MIMO antenna arrays, adaptive beamforming and beam tracking techniques, and fallback Gigabit Class LTE connectivity in a complete 4G/5G multi-mode platform.
Just as with the previous generation of 4G LTE modems, fallback functionality is important for the Snapdragon X50 5G where coverage isn't up to par. The mmWave spectrum isn't great for wall penetration so the advanced antenna structure and ability to use signal that has bounced around obstacles is important for 5G. Qualcomm says it has put in "years of research and development," to compensate for any mmWave limitations.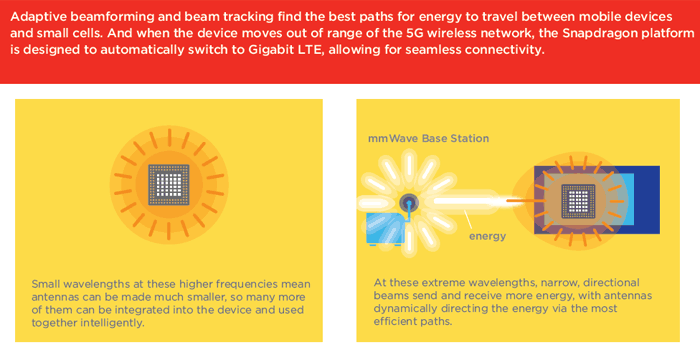 The Qualcomm Snapdragon X50 5G modem is expected to begin sampling in H2 2017 and it will begin to become present in shipping products throughout 2018.
New mid-range processors
Qualcomm has also launched the Snapdragon 653, 626, 427 processors. They all bring enhancements such as improved performance, better connectivity, and faster charging. Both the Snapdragon 653 and 626 are said to provide up to 10 per cent better performance over predecessors. Across the range, users will benefit from the Integrated Snapdragon X9 LTE modem Cat 7 downlink / Cat 13 uplink (300Mbps DL; 150Mbps UL), Qualcomm Quick Charge 3.0 technology, and support for dual main camera systems.

You can read more about these new processors on the Qualcomm Blog and further direct product links. The first devices sporting the new processors will start to arrive later this autumn.