PC market research specialist Jon Peddie Research (JPR) has just released a new report on the state of the worldwide gaming PC market. The report indicates that the market for gaming laptops has now become challenging. However as one door closes, or rather the hinges get very stiff, another opens, as a trend of PC gamers upgrading for 4K experiences has been identified. With these observations and the market data under its belt, JPR says that the overall PC gaming market will recede slightly overall as this year closes but will pick up pace again to grow in 2016.
| | | | | | |
| --- | --- | --- | --- | --- | --- |
| PC Gaming Hardware Market | 2014 | 2015 | 2016 | 2017 | 2018 |
| Total – numbers in millions | $24,936 | $24,684 | $26,118 | $28,253 | $30,092 |
Commenting upon the findings Ted Pollak, Senior Analyst at JPR wrote "This cycle, unlike any for the past fifteen years, will inspire gamers to upgrade their displays. 27 inch and larger 4K/UHD displays are reaching mass market pricing levels and produce an incredible experience allowing much wider field of view and greater detail." Pollak thinks gamers will be willing to fork out "billions of dollars" in the coming years on these upgrades for their PCs.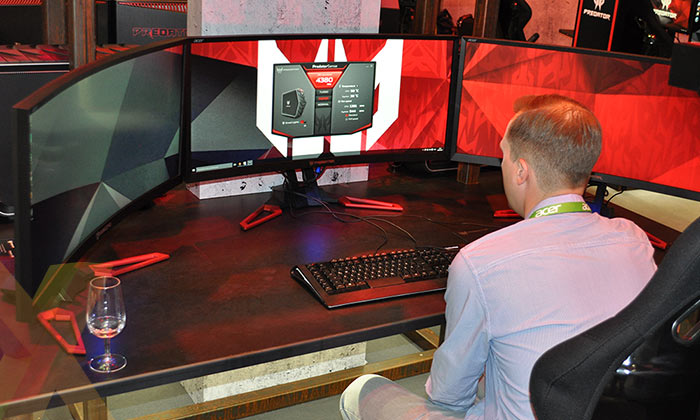 Of course the 4K gaming experience on a PC isn't just down to acquiring the right kind of monitor. To accompany their new displays, cramming in nearly 10 million pixels, a gamer will be required to pick up associated performance hardware like modern CPUs and GPUs. If the PC system isn't suitably power balanced with appropriate components it will simply perform in a disappointing fashion with the latest 4K enabled PC games. JPR reckons PC gamers will be aiming to achieve frame rates of at least 60fps on their 4K setups in new AAA games titles.

The gaming laptop market has been challenged on a number of fronts. Over recent years it has been seen to be a bright spot in the pre-assembled PC market with chances to up-sell and make better margins than with standard laptops. Now it seems like every systems builder has piled in, and players are competing more keenly with pricing. Another problem could be market saturation – everyone who wants one has one, more or less - as simple as that. JPR also notes gamers on the go are sometimes simply resorting to eminently portable, battery sipping smartphones and tablets.