A new report from IHS Technology informs us that shipments from the computer storage industry have fallen by five per cent last year. This news comes despite a near-doubling of the market for Solid-State Drives (SSDs) in the same period.
A total of 755 million storage devices including Hard Disk Drives (HDD), Solid-State Drives (SSD) and Optical Disk Drives (ODD) were shipped in 2013, a fall from 794 million units in the previous year. However there was a huge 82 per cent rise in SSD shipments to 57 million units, proving that the industry is being weakened by the HDD and ODD segments. The SSD sector is expanding quickly due to factors including a recent decrease in the cost of SSDs as a result of improved component price points. This has lead to higher adoption of the flash memory based drives by Ultrabooks and other compact PCs. New enterprise products such as drives, caches and arrays and the integration of SSDs in corporate storage systems have grown in popularity.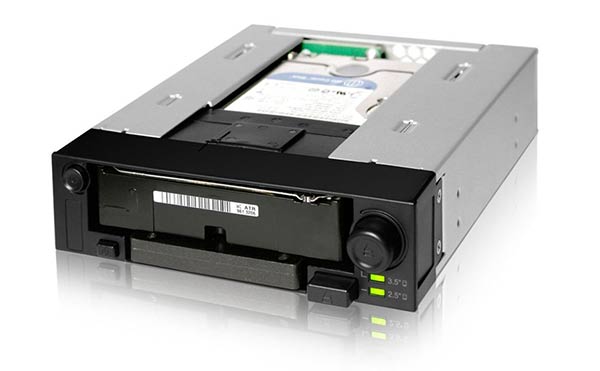 Forecasts of a further rise of 50 per cent in SSD shipping volumes this year could bring the tally to 189.6 million units shipped in 2017 - that's will be about half the number of HDDs sold per annum by that time.
HDD shipments fell 7 per cent to 444.4 million units whilst ODD sales declined even further by 12 per cent to 253.5 million units. Due to rise in smartphone and tablets, the decreasing appeal of traditional computers has definitely affected HDD sales, with consumer PC business showing a particularly evident loss. Although HDD sales have dipped there are some promising projections for the enterprise PC sector due to the elevating global economy which may lead to many businesses deciding to update their corporate PCs.
IHS also predicts new opportunities for the HDD industry to meet increasing demands for public and private cloud storage, especially when its technologies are in transition from the current Perpendicular Magnetic Recording method to next gen mechanisms. Shipments of HDD are expected to average around 400 million units for the next few years, accounting for half of the storage market.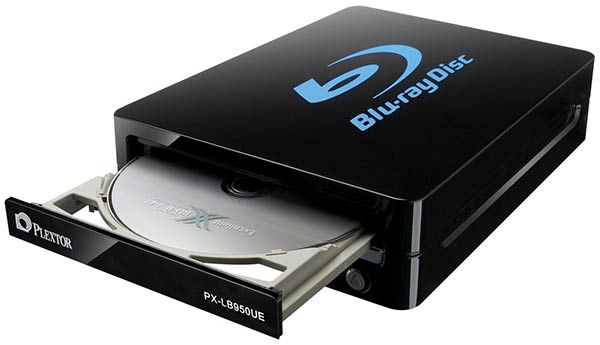 ODDs have shown the largest decline out of the three categories of storage device as a result of the rise in popularity of video streaming services, traditional PC/laptop shipment decline and compact consumer PCs omitting ODD drives. We also note the growing trend in chassis manufacturers of skipping the inclusion of an ODD slot in their smaller form factor cases. By 2017, IHS believes that ODD shipments will drop a further 40 per cent from their 2012 levels.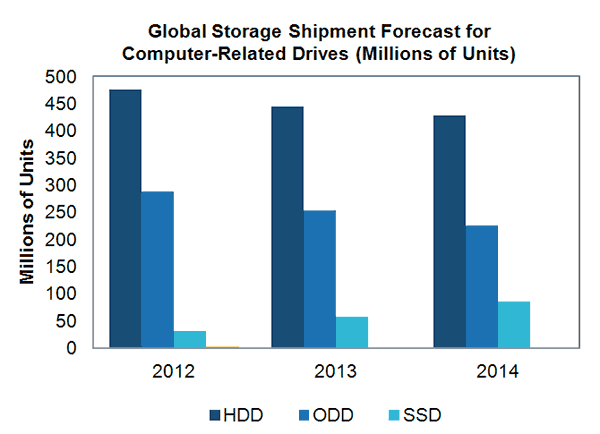 "The storage industry continues to navigate multiple transitions that are affecting each segment's performance," said analyst for storage systems at IHS, Fang Zhang. "The SSD sector is easily the most promising, compared to a struggling HDD segment that remains huge but is still trying to find its footing in a shifting environment, or to the more beleaguered ODD space that now has become irrelevant." Please note that the IHS report only includes computer-related drives and excludes sectors such as automotive, industrial, gaming, external storage, video surveillance and set-top box/DVR machines.