Toshiba has announced the development of a new 13MP digital camera sensor aimed at super-thin smartphones and tablets. The new sensor, the TCM9930MD, houses a 1/3-inch camera sensor and is only 4.7mm thick. Toshiba claims this is the world's thinnest 13MP camera module.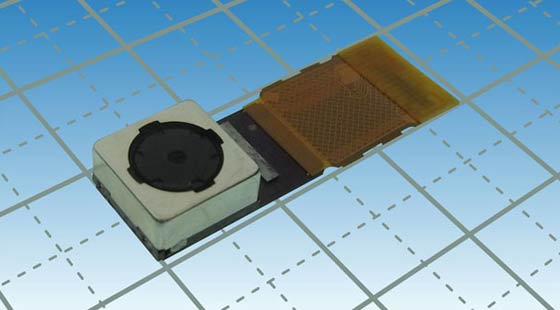 Toshiba had to work both on the lens design and the dedicated LSI flip-chip structure to get the camera module to be so thin. The lens is constructed from four plastic elements. As the lens elements are so compact the lens natively produces a distorted image, this image is then processed by a digital signal processor to apply a correction algorithm and make a natural human eye style view.
Turning to the electronics behind the lens, Toshiba used a flip-chip structure rather than conventional wire bonding. You can see the thinness benefits of this process below.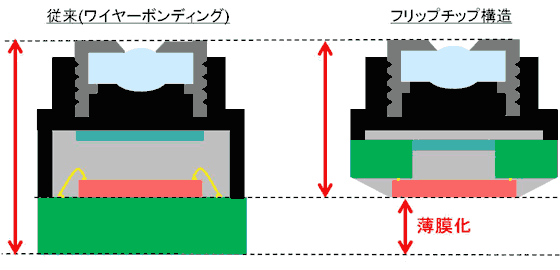 Toshiba TCM9930MD Specs
| | |
| --- | --- |
| Part No. | TCM9930MD |
| Resolution | 13 megapixel |
| Sensor size | 1/3.07 inch |
| Pixel size | 1.12 micrometer |
| Module Size | 8.5 x 8.5 x 4.7 mm (the AF unit) |
| Lens constitution | 4 plastic |
Unfortunately the photographic image quality you will get from this new Toshiba sensor will not be as impressive as its stunning thinness. The very small pixel size will mean that much older smartphone cameras, such as on the Nokia N8, should offer better quality says Vlad Bobleanta of UnWired View.
Samples of the new super-thin camera module are set to ship in May this year with commercial quantities (a million per month) being shipped by December. Bought in bulk these camera modules are going to be sold for the princely sum of around US$74 each so they look like they will be destined for mid to high end smartphones and tablets only.