Toshiba has announced that it has developed a 64-core system-on-chip (SoC) aimed at embedded applications such as inside automotive products and digital consumer products. This new SoC is a successor to Toshiba's 8-core SoC but has approximately 14 times the performance.
Power consumption and size of "many-core" SoCs have previously limited their use in embedded applications but the new Toshiba 64-core SoC has significant advantages in performance while maintaining low power consumption and a small cluster size. To make the SoC two 32-core clusters are used together on a 210mm2 (15mm x 14mm) die area which also contains 2MB level-two cache, hardware accelerators and a dual-channel DDR3 memory controller alongside other peripherals.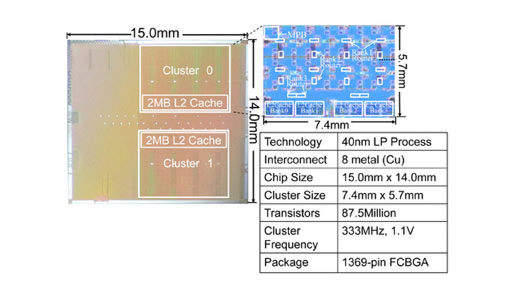 To cram that many cores in the SoC Toshiba use a "tree-based network-on-chip (NoC) architecture". The performance sounds impressive; "Integrated with image recognition hardware accelerators, the new many-core SoC secures 1.5 tera operations per second at 333MHz, a processing rate 14 times faster than that of its eight-processor multi-core predecessor." The new SoC is fabricated using a 40nm process which helps give it a power efficiency advantage of 40 to 50 per cent over the previous 8-core Toshiba SoC, made at 60nm.
Toshiba foresees this new many-core SoC being especially useful for multimedia processing of HD images. Video encoding, decoding and image recognition are mentioned in the press release suggesting that the SoC will be integrated into digital video players, recorders and also camcorders. The SoC manages to process HD and 4K2K videos without breaking into a sweat. Examples of the 64-core SoC performance include; MPEG4 1080p 30fps decoding uses less than 500mW and playback of 4K2K video at 15fps uses less than 800mW.