Back in November 2017, HEXUS reported upon Broadcom's $130bn offer for Qualcomm. It hit the headlines as, if it was to go ahead, it would have been the biggest tech deal ever. However, the attention wasn't welcomed by Qualcomm's board and over the intervening time between then and now, Broadcom has been convincing Qualcomm shareholders that it would manage the company better and give a better return. This type of takeover, not welcomed by the board members but given the go ahead by shareholders is a 'hostile takeover'. Another concern, from a broader industry perspective, is that a united Broadcom Qualcomm entity could control approx 65 per cent of the bill-of-materials that goes into smartphone handsets.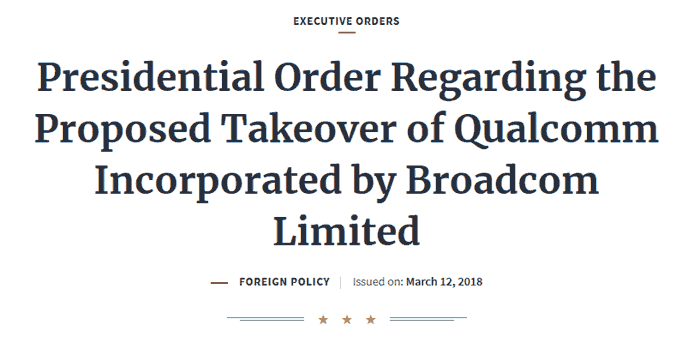 A few hours ago US President Donald Trump stepped in to kill off any deal between Broadcom and Qualcomm. Bloomberg technology reporter Ian King said the move by Trump was "very sudden" and that he felt that there hasn't been "a very deep or long running investigation" at the White House. Summing up, the deal is "stone dead".
What is behind this very direct action by the US President? Bloomberg reports that "Any deal that could give China an edge in critical technology will be swatted down in the name of national security." It must be pointed out that while Broadcom is a Singapore-based company, its ties to China must have been deemed as being too close. Also, something seems to have changed in the recent political climate, as Broadcom Chief Executive Office Hock Tan met with Trump at the White House in November and announced that Broadcom was to move its headquarters from Singapore to the US.
In a statement published by the White House, Trump's official reasoning is as follows:
Section 1. Findings. (a) There is credible evidence that leads me to believe that Broadcom Limited, a limited company organized under the laws of Singapore (Broadcom), along with its partners, subsidiaries, or affiliates, including Broadcom Corporation, a California corporation, and Broadcom Cayman L.P., a Cayman Islands limited partnership, and their partners, subsidiaries, or affiliates (together, the Purchaser), through exercising control of Qualcomm Incorporated (Qualcomm), a Delaware corporation, might take action that threatens to impair the national security of the United States; and

(b) Provisions of law, other than section 721 and the International Emergency Economic Powers Act (50 U.S.C. 1701 et seq.), do not, in my judgment, provide adequate and appropriate authority for me to protect the national security in this matter.
Later, in part (e) the US government ordered that "The Purchaser and Qualcomm shall immediately and permanently abandon the proposed takeover."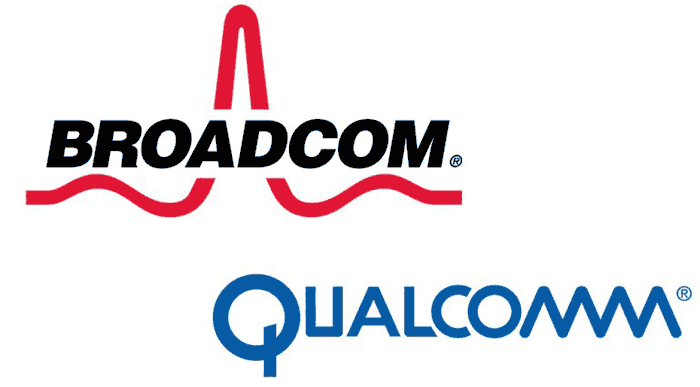 Another fear of the US government is that Broadcom would not push ahead with Qualcomm's 5G R&D plans, leaving China's Huawei technologies to dominate communications tech and equipment used in the world's next-gen tech devices.
Bloomberg notes that this takeover deal block is Trump's second in six months, whereas Obama only blocked two such deals during the whole of his two term presidency. The action takes place in the wake of heavy tariffs being erected in the US on products like steel and aluminium.