Slowdown? What slowdown?
IDC senior research analyst Eszter Morvay (pictured) spoke exclusively to HEXUS.channel today to reveal that, according to IDC's preliminary findings, the UK PC market grew by a massive 26.4 percent in Q2, compared to the same period in 2007.
"People have been expecting an economic slowdown to impact the market in Q1 but it hasn't happened," said Morvay. "We were a bit surprised at the data because everyone has been talking about a slowdown, but all the major OEMs are still very optimistic."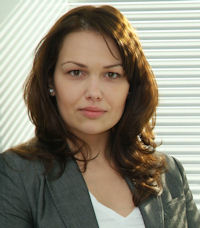 The driver for this growth has been the consumer notebook market, which grew a staggering 85.5 percent year-on-year. As expected, most of this was down to the top three of HP, Dell and Acer. "We estimated that the top three have all had triple digit growth and that Asus experienced four digit sales growth."
Yes, four digit; over 1000 percent, over ten times its sales of a year ago. Go to the next page for a breakdown of the stats Morvay was able to give us ahead of the official preliminary results announcement next Tuesday.