Cool cores
There's been a lot of focus on the battle between AMD and Intel CPUs at around the £200 mark, but St Albans based distie Boston is keen to bring attention back to Intel's Core i7 family of processors, especially with overclocking in mind.
After all, Core i7 is still the uncontested performance leader and for those enthusiasts to strive to create the fastest system possible, overclocking a Core i7 is going to be the obvious choice.
Boston's interest in this market is represented, at least in part, by the fact that it is a distributor for enthusiast cooling company Zalman, which led the way in Core i7 cooling with its CNPS9900-LED cooler.
And it's this product that Neil Kalsi, channel sales manager at Boston, was keen bring to our attention. Among the features he highlighted to us were:
It's the final evolution of the 'O' shaped cooler, which can perform up to five degrees better in high rpm and 10 degrees better than low rpm than its predecessor: the CNPS9700.
It comes with the ZM-CS4A clip to support LGA 1366. This clip also converts the CNPS9500 and CNPS9700 coolers to socket 1366.
Here's a photo with the 9900 on the left, so you can see how it has evolved from its predecessor the 9700 on the right.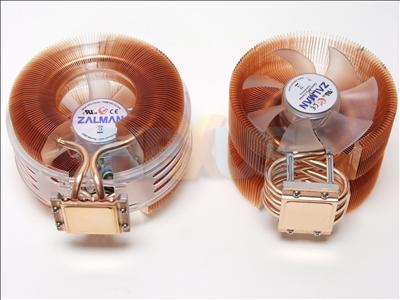 And here they are in their retail packaging, with the ZM-CS4A clip in the middle.