Introduction
The Alienware Aurora has been around for about as long as we can remember and serves as a means for Dell to deliver high-end gaming PCs that pack a performance punch. Said machine has undergone numerous transformations over the years, and the latest iteration, dubbed the Aurora R5, is the best yet.
Prices start from as little as £799 and Dell has high ambitions for its revamped gaming desktop. Going by the accompanying marketing material, the Aurora R5 is designed to play into the hands of virtual reality and 4K gaming, though don't expect such excellence in the base specification. £799 will only get you a Core i3 processor, previous-generation GeForce GTX 950 graphics and one of those old storage devices with spinning platters and moving parts.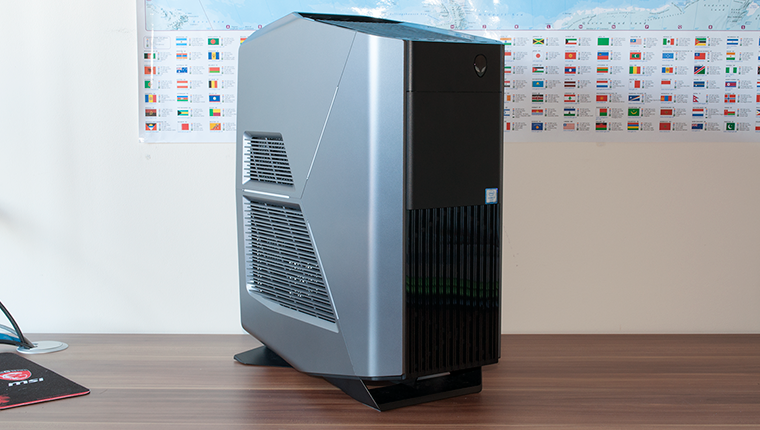 Configuration options are thankfully plentiful, and our review sample is far more appetising courtesy of an Intel Core i7-6700 processor, GeForce GTX 1070 graphics, and a 256GB Toshiba XG3 M.2 SSD to accompany the 1TB hard disk. Such goodies increase the purchase price to £1,385, yet budget permitting there's room to go further. Add an overclocked Core i7-6700K processor, liquid cooling, 32GB of memory and GTX 1080 graphics and you could splash out over £2,000. Heck, there are even dual-GPU options for those of you willing to risk the foibles of SLI.
Hardware choices are sensible throughout, yet what makes the Aurora R5 more intriguing than a generic desktop is the rather useful and compact chassis. Despite being able to pack liquid cooling and dual GPUs, the mid-tower chassis is smaller than anticipated and measures 473mm (H) x 212mm (W) x 361mm (D). That's relatively petite for a performance machine, and yet it looks pretty good, too, with moulded plastic panels that give a gaming aesthetic without going over the top.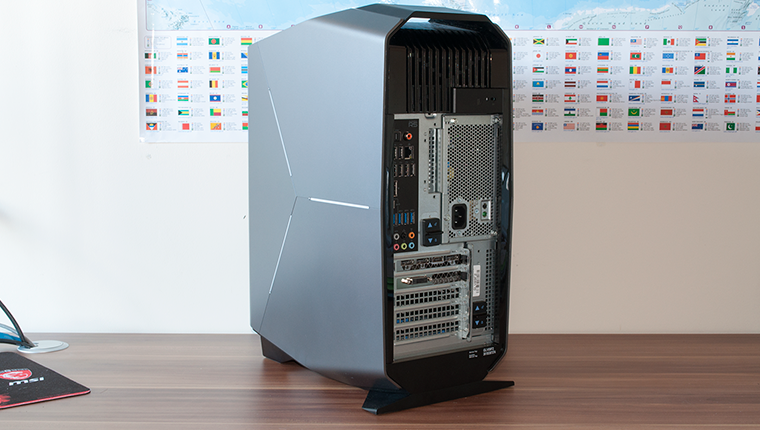 Vents on the front side and top help assist airflow, while a trio of illuminated lines on either side panel provides some optional effects that tie-in with the backlit Alienware power button on the front. Connectivity options aren't lacking, either, with the top-front edge lined with four USB 3.0 ports and a pair of audio jacks.
There's more around back, where you'll find all the USB ports you're ever likely to need. The entire collection is made-up of half a dozen USB 2.0, three USB 3.0, USB 3.1 Type-A and USB 3.1 Type-C. There's also Gigabit Ethernet and, in case a wired connection isn't an option, Wireless AC and Bluetooth connectivity is included as standard. Plenty to like, but if you're new to the Aurora R5 you're probably asking the same question we did: what's the PSU doing in that unorthodox position?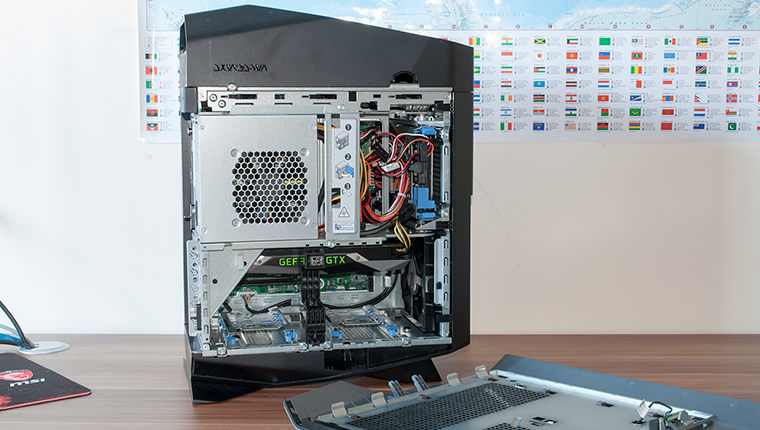 The answer is actually quite clever: it's enabling the compact form factor while allowing easy access to the system's components. Accessibility is said to be one of the Aurora R5's key strengths, and credit where it's due, the chassis does work well and even novice users will find it easy to carry out tool-free upgrades.
In order to venture inside, you simply need to pull a tab on the back to release the side panel. Taking it off reveals the silver steel frame, and though we'd have preferred an all-black interior for a greater sense of refinement, we do like the fact that the 460W PSU is made to float above the CPU and rests on hinges that allow the assembly to be swung out with ease.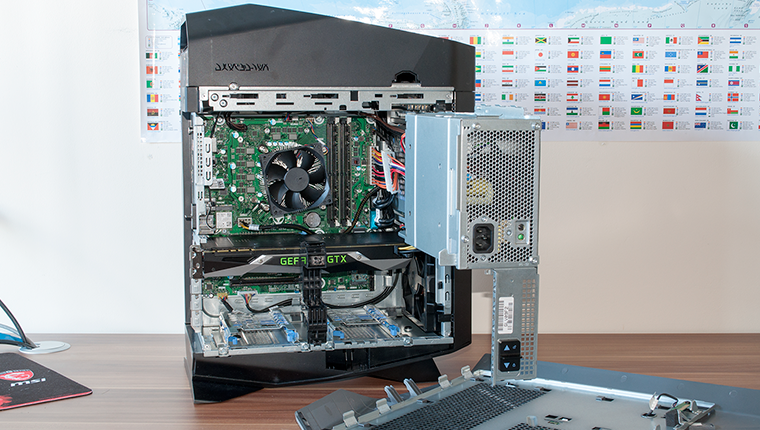 Perusing the core components in our review sample reveals a micro-ATX motherboard, 8GB (2x4GB) of DDR4-2133 memory and a basic-looking heatsink and fan sat atop the CPU. Two additional system fans - a front intake and a top exhaust - provide airflow, and the graphics card is neatly secured using a vertical brace. Four available DIMM slots and a pair of tool-free drive bays allow for easy memory or storage upgrades, and it would take next to no effort to change the graphics card or add a second further down the line.
Everything a gaming PC needs, yet knowledgeable readers will be aware that similar off-the-shelf components tally-up to around £1,150, so you're looking at roughly a 15 per cent premium for Alienware's tried-and-tested turnkey solution. The system is backed by a one-year onsite warranty (upgradeable to up to four years at additional cost) and the 64-bit Windows 10 operating system is kept reasonably clean, with little other than McAfee security software and a couple of Alienware utilities pre-installed as standard.