Introduction
Want to a fashionable PC that looks the part and keeps cable clutter down to a minimum? Then you should have all-in-ones near the top of your shopping list.
Tucking all the hardware in behind the screen and abandoning the traditional tower is a great way of keeping things tidy, however limitations in size and cooling have historically restricted performance. Gamers, therefore, haven't shown a great deal of interest in all-in-one solutions, but things are beginning to change and with the 34in Fusion Curve, PC Specialist hopes to prove that streamlined gaming PCs are coming of age.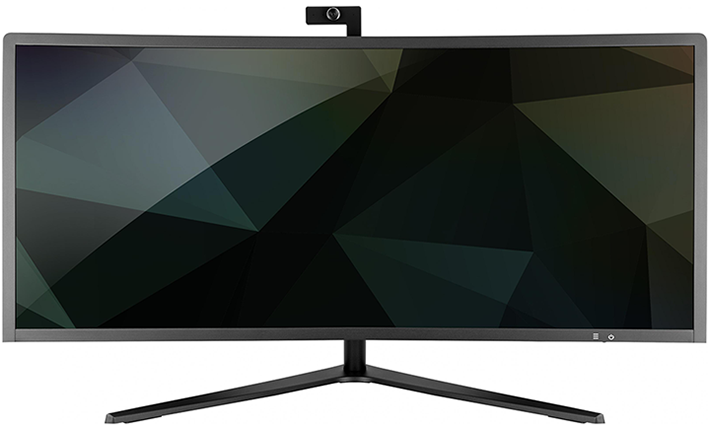 It's certainly a looker. The large, ultra-wide 34in panel curves gently from left to right, creating the wrap-around environment that has proven successful on consumer displays. A reasonably slim 15mm bezel does little to detract from the overall effect, and though the 720p webcam jutting out from the top is a bit of an eye-sore, it can easily be removed to reveal a spare USB 3.0 port.
The matte panel, identified as a Samsung LTM340YP01 a-Si TFT-LCD, offers a generous 3,440x1,440 resolution, decent viewing angles as well as good brightness (350cd/m2), a 3000:1 contrast ratio and a 60Hz refresh rate. It's an enjoyable place to be, but it's a sign of how far displays have come that the Fusion Curve arguably isn't breathtaking. If you're inclined to live near the bleeding edge, you may lament the lack of G-Sync, OLED contrast, or the ability to go beyond 100Hz.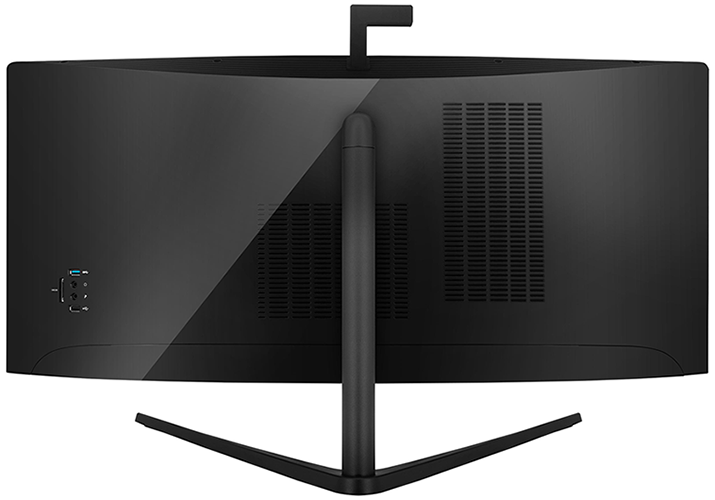 Build quality is a tale of two halves. The metal stand and front bezels provide a robust and sleek aesthetic, but around back the vented plastic cover doesn't exude the same level of quality. Attaching the heavy display to the stand is as easy as fastening a couple of screws, and we're impressed by how such a thin base can accommodate a screen as substantial as this. There are a couple of caveats, however, as while the stand allows for a small amount of tilt, there's no height adjustment nor swivel, making it tricky to find a sweet spot. Alternatively, a VESA mount is provided in the box for wall-mounting or compatibility with third-party stands.
In terms of inputs and outputs, the power button is located on the underside, near the right corner, alongside a small joystick for navigating the panel's on-screen menus. In addition to the top USB 3.0 port, there are two further USB ports around back (1x 2.0, 1x 3.0), as well as an SD card reader and a pair of audio jacks. The rest of the connectivity options are determined by the motherboard, and seeing as this is a gaming PC first and foremost, let's take a peek under the hood.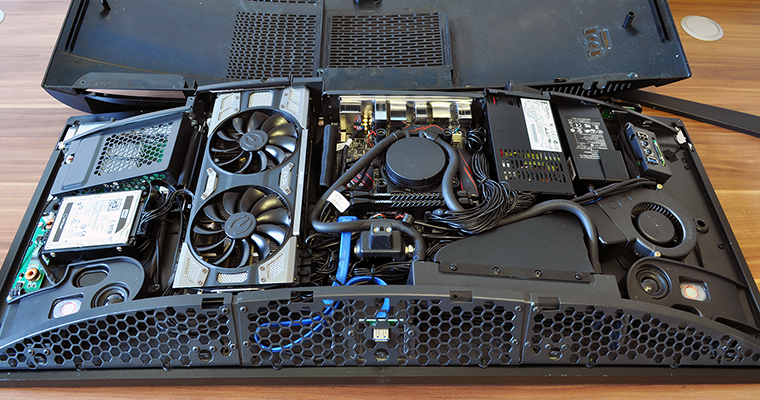 Undoing a dozen or so screws allows for the I/O cover and plastic shroud to be removed, revealing a busy interior with some truly high-end hardware. Our review sample's foundation is an Asus Z170I Pro Gaming mini-ITX motherboard, on top of which sits an Intel Core i7-6700K processor, 16GB of dual-channel Kingston HyperX Savage DDR4-2666 memory, and a 512GB Intel 600p M.2 SSD.
That's already enough to put most all-in-ones to shame, yet there's also a 1TB WD Black hard disk for secondary storage, a low-profile liquid cooler attached to the CPU, a pair of basic stereo speakers, and last but certainly not least, an EVGA GeForce GTX 1080 FTW Gaming ACX 3.0 graphics card. A tantalising mix, and the Fusion Curve manages to shoehorn everything into a reasonably slim frame with some interesting cooling configurations.

The CPU's liquid cooler is channelled to a top radiator measuring roughly 160mm x 40mm in size and aided by a centrifugal fan, while the graphics card points down, leading us to wonder whether or not a Founders Edition would have been a better fit in terms of airflow. Said graphics card's HDMI output is pre-plumbed to the display, while the two PSUs (a 120W unit for the screen and a 450W unit for the PC) are daisy-chained to require only a single mains power cable. Handy, though do note that the power port and motherboard connectors aren't the easiest to reach when the display is up and running - we found it simpler to connect the cables prior to attaching the stand.
PC Specialist backs the entire system with a three-year warranty, but all-in-ones tend not to come cheap, and Fusion Curve is no exception. Our review sample fetches £2,449, which is at least a couple of hundred pounds more than a similarly-powered desktop combined with a standalone 34in ultra-wide display. Such a premium is not unexpected, and the real question here is whether or not the components can live comfortably in seemingly tight confines. With that in mind, let's see what the benchmarks have to say.