Introduction
System integrators love to create extreme gaming rigs for PC enthusiasts with cash on the hip. But such elaborate builds tend to require some form of catalyst in order for them to shift. A high-profile graphics card launch, a new CPU platform, or a triple-a title that demands top-notch hardware.
Such innovations have worked well in the past, but you could argue there hasn't been anything truly groundbreaking in the CPU, GPU or game departments for a number of years now. What system integrators need is another reason for consumers to consider a high-end system, and virtual reality could be it.
We can see the attraction. For serial early adopters, VR is the next big thing and if you've already ordered an Oculus or Vive, you're probably going to want a meaty PC to drive those per-eye pixels. Machines claiming to be VR-ready are going to come thick and fast, and DinoPC is getting a headstart with its eye-catching Nvidia Battlebox, the BX1.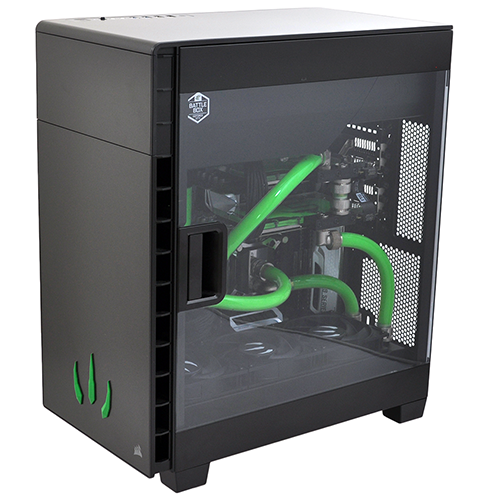 What's an Nvidia Battlebox, might you ask? In a nutshell, it's an extreme PC powered by the minimum of a GeForce GTX 980 graphics card, an Intel Core i7 CPU, at least 16GB of memory and a fast SSD.
The concept originated a few years back to coincide with the launch of 4K monitors, and though it didn't really take off, Nvidia is giving it another go. And who can blame them? The Battlebox is to the gaming PCs what Ultrabooks are to laptops - a way of keeping AMD away from the table.
What's more important to you, the end user, is that the BX1 looks and feels like a showstopper. Priced at a staggering £3,799, this here machine is designed to be grand in all departments, and it sure does look cool. With aesthetics in mind, DinoPC has opted for a Corsair Carbide Series 600C, whose large side window is ideal for showcasing the ultra-high-end innards.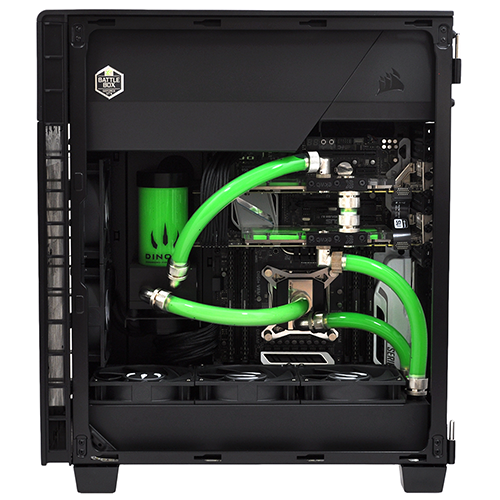 The green-on-black colour scheme is a feast for the eyes, and performance parts are everywhere you look. BX1 uses an Asus X99-Pro/USB 3.1 motherboard as its foundation, on top of which is a hexa-core Intel Core i7-5930K processor overclocked to a cool 4.5GHz and a whopping 32GB (4x8GB) of Corsair Vengeance LPX DDR4 memory.
Pushing pixels is the name of the game so we have not one, but two, GeForce GTX 980 Ti graphics cards, and each is overclocked to 1.2GHz by default. What about the subsequent heat? That shouldn't be a problem as DinoPC has employed transparent EK-FC Titan X waterblocks on the GPUs and a Heatkiller IV Pro waterblock on the CPU. The custom loop is fed by a neatly integrated pump/reservoir and carries heat away to a chunky bottom-mounted EK-CoolStream XE 360 radiator.
It looks great and, as we'll demonstrate a little later in the review, temperatures simply aren't a problem. There are other considerations, though. The five installed fans (three on the rad, two on the chassis) result in idle noise levels being slightly higher than we'd like, and the chassis' built-in fan controller is of little use. Switching it to high makes the system unnecessarily loud, and switching it to low inadvertently turns off all the fans, which we wouldn't recommend.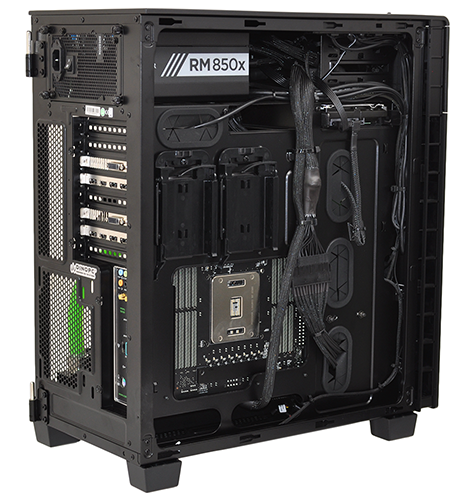 If we're being picky, we'd like to have seen DinoPC pay a little more attention to the finer details. Backplates on the graphics cards would have been a nice touch, as would full-coverage waterblocks, and though the CPU overclock is perfectly stable, it's a shame Intel SpeedStep is turned off at the expense of overall efficiency.
There's room for improvement with regards to implementation, however there's no denying BX1's performance potential. On the storage front DinoPC installs a 512GB Samsung 950 Pro NVMe SSD as standard, as well as a 4TB Seagate Desktop HDD for excess storage. One potential oddity is the Corsair RM850x power supply. While undoubtedly a solid unit, a Platinum-certified, higher-capacity supply from Corsair's own HXi/AXi stable would have been befitting a system of this magnitude.
You could, of course, put together a similar build for less money, but there's always an element of risk when custom liquid-cooling loops are involved. Take the DinoPC route and everything is built tidily and guaranteed by a three-year warranty that includes parts cover for the first two years and labour for the remainder. Now onto the fun bit, let's tear-up some benchmarks, shall we?