Introduction
Many of the industry's biggest names are betting heavy on a profitable future in PC gaming. With high fliers such as Lenovo stepping onto the scene, gaming specialist Asus needs to keep on its toes in order to stave off increasing levels of competition.
The Taiwanese firm's Republic of Gamers division is well known among the enthusiast audience, and with considerable R&D budget at its disposal, the RoG team has, in recent years, stood out from the crowd with desktop PCs that are a little different to the norm. We've already seen Asus rigs in unique shapes and sizes, and today we turn our attention to the RoG G20CB, a small-form-factor powerhouse that may set a standard for other system integrators to follow.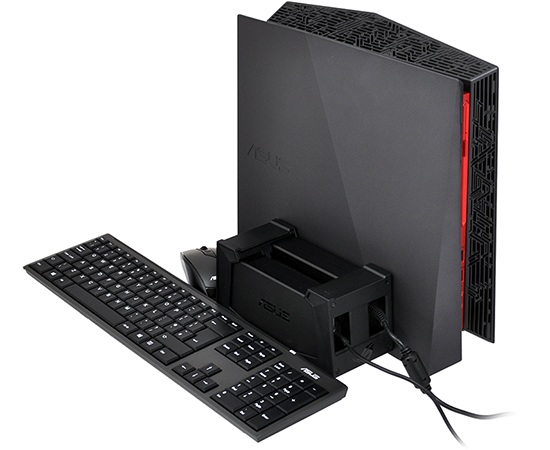 Priced at £1,500 for the base unit, keyboard and mouse, the G20CB is described as "a one-stop gaming and entertainment system" that champions some of the very latest PC technologies available. That doesn't include the generic keyboard and mouse, both of which are token gestures at this price point, however it's the Windows 10 base unit that may tickle your fancy.
Measuring just 104mm (W) x 340mm (H) x 358mm (D) in size, the small-form-factor desktop is quite possibly one of the best-looking gaming PCs we've seen. RoG G20CB is gloriously svelte in situ, the matte grey finish is easy on the eye, the angled accents provide the right amount of edge, and the red centre provides an extra bit of flair. Most of the exterior shell is plastic, yet build quality is good and the system comes across as aggressive and ready to erupt without appearing gaudy in any way.
It's a sexy bit of kit, but Asus has had to compromise in order to create such a compact enclosure. The most obvious concession is the power supply, which has been forced outside in a somewhat unusual enclosure. In order to serve up the requisite amount of juice for the G20CB's internal components, Asus has essentially strapped two supplies (180W and 230W) into a plastic caddy. It's a simple enough solution, but it's far from elegant and it has an inevitable drawback - you need to run two power cables from the caddy to the desktop, and you'll need two plug sockets for the one PC.
The power supply and peripherals feel like an afterthought, but the desktop itself is really quite tasty. Instead of basic slots or holes for ventilation, Asus has implemented 'Mayan-inspired' coverings on the top and front, and as you might expect from a modern gaming machine, there are LED backlights aplenty. Asus incorporates a three-zone lighting environment (two up front, one underneath) and with the accompanying software package you can create just about any colour combination/effect you can think of.
Though chassis space is at a premium, connectivity options are plentiful. On the slim front I/O panel you'll find a DVD writer, two USB 3.0 ports and headphone and microphone jacks. Turn the G20CB around and you'll get a further six USB ports (2x 2.0, 2x 3.0, 2x 3.1), Gigabit Ethernet, multi-channel audio, S/PDIF, HDMI and the two power connectors. On top of that, you have the five display outputs from the discrete graphics card.
The convenience of USB Type-C's reversible connector would have been a nice addition, but most of the right boxes are ticked and we like the fact that Asus has also squeezed in Wireless AC and Bluetooth 4.0 connectivity. What enthusiasts will really want to know, however, is how much performance can Asus possibly cram into a box whose overall volume is less than 13 litres?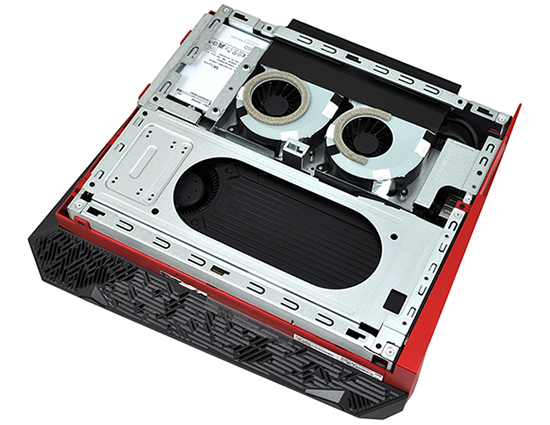 The answer is quite a lot, though perhaps not as much as the price tag suggests. Getting access to the components is tricky - everything is tightly arranged in steel housing - but in there somewhere we have a latest-generation Intel Core i7-6700 processor, 16GB of DDR4 memory and an Nvidia GeForce GTX 970 graphics card.
A tasty combination, though the CPU is stock-clocked at just 4GHz, and while Nvidia's GTX 970 is a powerhouse in its own right, said GPU is typically found in sub-£1,000 PCs. At this price point you might have been expecting a GTX 980 or 980 Ti. Surprisingly, Asus also misses a trick with the SSD, which happens to be a meagre 128GB drive from SK hynix pre-loaded with Windows 10 and a few inoffensive bits of bloatware. You do get a 2TB hard disk for secondary storage, but a bigger, faster SSD would have been befitting a system of this class.
Experienced readers will note that a PC with similar components, albeit in a larger, less-sexy form factor could be put together for considerably less money. You pay a near-£400 premium for the RoG G20CB's unique design and compact form factor, though it too comes with pros and cons. This is a great-looking machine, but do be aware that future upgrades won't be easy and by opening the chassis you risk voiding the manufacturer's short one-year warranty.