Introduction
We've always felt an attraction toward the cute little Intel NUC. Since its inception in 2012, the 'Next Unit of Computing' has showcased what the upcoming wave of mini PCs could do. But they haven't always been perfect, and a fair few third-party solutions have in our estimation missed a trick by attempting to cram-in too much performance, often at the expense of cost, heat and noise.
With that in mind, ASRock's BeeBox N3000 has caught our eye. Launched as the world's first NUC mini PC to be equipped with USB Type-C, the BeeBox N3000 retains the familiar NUC form factor and has the added bonus of no-noise operation courtesy of a passively-cooled Intel Celeron processor.
Better still, pricing starts at just £115 for a barebone solution, and rises to £190 for a model outfitted with 4GB (2x2GB) of DDR3L-1600 memory and a 128GB mSATA SSD. Neither model includes an operating system, mind, so if you'll be taking the Windows route remember to apportion another £80 or so.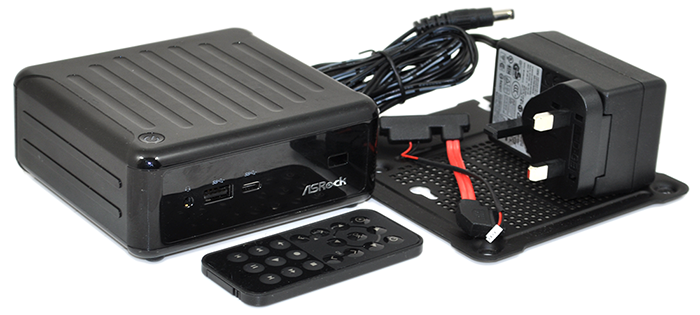 We have the SSD-equipped model in for review today, and first impressions are favourable. The 110mm (W) x 46mm (H) x 119mm (L) box is in line with expectations and the fit and finish of the plastic outer shell is good. The box looks and feels reasonably robust, though long-term wear and tear could be an issue - the review sample sent in by ASRock has clearly been through some abuse and is littered with scuffs and fingerprints.
ASRock's marketing department reckons the design concept originated from bees - hence the name, BeeBox - but we don't see any resemblance, which is probably a good thing. It's an understated unit with a somewhat rugged aesthetic, and ASRock doesn't overcomplicate the bundle. A VESA mount is included for attaching the N3000 to the back of a monitor, there's a small external 36W power adapter, and a small infrared remote control.
For such a small box, it's rewarding to find a well-rounded selection of connectivity options. On the front, ASRock includes a headphone jack, USB 3.0, up-and-coming USB Type-C and an infrared receiver. Around back you'll find a connector for the power supply, two HDMI ports, Gigabit Ethernet, DisplayPort and a further two USB 3.0 ports.
Despite the limited amount of room, every port is of the full-size variety, so you'll never need to faff about with adapters, and if you feel the need you can drive three displays simultaneously. 4K resolutions are also supported, though the underlying IGP does have its limits - our review sample was happy to drive a 4K panel at 30Hz, but 4K60 doesn't appear to be an available option.
Elsewhere, there's a solitary backlit power button that's a tad too mushy for our liking, and the whole unit sits on four rubber feet that prop-up the box and allow for air to enter via a large bottom vent. So far so good, though we might have liked an SD card reader for added flexibility, and a reset button wouldn't go amiss.
Opening up the BeeBox N3000 is as easy as undoing four screws on the unit's underside. Removing the bottom panel reveals access to the two SO-DIMM slots and easily accessible mSATA. Both are occupied in this £190 model, the former with 4GB of DDR3-1600 memory, the latter with a 128GB mSATA SSD, all of which is supplied by Team Group. Just underneath the SSD lies a Realtek 8821AW NIC, providing Wireless AC connectivity and Bluetooth 4.0.
Up to 16GB of memory is supported, and if you're looking for an easy way to expand storage capacity there's a dedicated 2.5in tray attached to the base. A SATA 6Gbps adapter is provided for connecting a drive to the motherboard headers, and it's a simple but effective way of increasing storage space at minimal cost.
Installing Windows is a pain-free process, and we were pleasantly surprised to find that all the necessary drivers were installed automatically via Windows update. There's no extra legwork involved, but a word of caution for any current or future owners: be careful when applying ASRock's BIOS updates. Attempting to upgrade our review sample to v1.5 resulted in an unbootable device, and we were forced to pull the internal battery in order to get back up and running. Our failed update could be an isolated issue, but don't say we didn't warn you.
[Update - 19/01/16] ASRock has been in touch to state that, should any BIOS related-issues occur, a pair of Clear CMOS contacts are available on the motherboard. Shorting these should, in theory, restore the BIOS to factory defaults.
How about performance? Well, ASRock refrains from making any bold claims about the underlying processor, and you can understand the decision not to shout about the CPU's credentials. The part in question is a relatively low-rent Intel Celeron N3000, a dual-core processor capable of speeds of up to 2.08GHz and outfitted with Intel HD Graphics.
A 4W TDP tells us the CPU won't win many races, but such a small power envelope allows the processor to run without a fan - heat is instead dispersed via a good-sized heatsink that makes contact with the top lid via a thermal pad, and the unit doesn't get particularly hot during everyday workloads. We're intrigued to see how the BeeBox N3000 fares in our benchmarks, so let's get to it.