Media credentials
Firing the unit up on a Sony 55in 4K TV - 55X8509C - the familiar Android TV skin is immediately recogniseable. As of December 21, 2015, the Shield TV runs Android Lollipop 5.1 and its own Shield Hub 2.1 for game playing and streaming. Let's take both in turn.
The underlying hardware present in the Shield TV provides a silky-smooth experience when navigating through the various screens and apps. It's fast, responsive and feels like a PC. The look is actually very similar to the Android TV presentation inherent on the TV itself, which is no surprise, and the comparisons are interesting. Voice search on the Shield TV is a little hit and miss, due to the limitations of how Android TV understands commands, and anything resembling complicated is able to trip it up. For example, I asked it to load up a program on iPlayer; it failed.
Shield TV is able to process and output to 4K60 via HDMI 2.0, while also supporting the latest codec standards such as H.265 and VP9. Nvidia talks up the 60fps playback of the device as a defining feature, but considering most films are shown at 24fps, the higher refresh rate has little bearing on content. Perhaps it will become more relevant as broadcasters, at some point in the future, switch to it, or if YouTube 4K60 becomes more popular. On the capture side, the Shield TV is able to pull in 4K at up to 30fps. The same HDMI cable also carries 5.1- and 7.1-channel sound, too.
While the speed of the Shield TV hardware is in little doubt, eclipsing the same variant of Android TV built into my Sony big screen, the real difference is the number of relevant apps that can be used on Nvidia's console-cum-player. Netflix, YouTube and PLEX are pre-loaded out of the box, with obvious names such as iPlayer, Vevo and Kodi available from the Play store, but there are notable omissions for anyone considering the Shield as their go-to media streamer.
For starters, there's no Amazon Instant Video - the etail giant generally limiting it to TVs such as the aforementioned Sony - or any terrestrial catch-up service other than iPlayer. Sports fans are likely to be disappointed by the absence of BT Sport while music lovers will miss native Spotify. The blame cannot all be laid at Nvidia's door, of course, and no streamer currently supports the whole gamut, but big names are certainly conspicuous by their absence. In comparison, my Sony TV, due to licensing agreements, carries many of the apps that are missing from the Shield's repertoire.
In use as a gaming machine
This is where the Shield TV has obvious strengths, thanks mostly to the combination of powerful GPU and ability to facilitate gaming either locally or via the web and, optimally, through GeForce Now. There are some reasonable games on the Play Store but none that can really tap into the power of the Tegra X1 processor. Those after a bit more graphical oomph can visit a section that has a number of games optimised for the Shield TV, including Half-Life 2, Trine 2, and upcoming Borderlands 2 and Resident Evil 5.
Relying solely on the power of the hardware itself, the Shield TV is in another league compared to all other media streamers/gamers. The Tegra X1 returns a Geekbench score which is approximately double that of the Google Nexus Player. Drilling down, it scores 4,187 marks in 3DMark's Sling Shot Unlimited ES 3.1 test and 43,634 marks in the Ice Storm Unlimited benchmark, both of which trample over, say, a fairly recent iPad or smartphone. The real-world upshot is that Shield TV-powered games look and play nicely on a big-screen TV - akin to a console of yesteryear.
Where the console really becomes interesting, as far as a living-room gaming experience is concerned, is with GeForce Now. Previously known as GeForce Grid, the service streams games from one of six Nvidia servers straight to the Shield TV, which uses built-in GPU technology to decompress the stream and display it on your TV. GeForce Now is free for the first three months and then costs £7.49 a month thereafter. 65 or so games are included in the package, including some gems such as The Witcher 2, Batman: Arkham City and Grid Autosport, but, as expected, there are also a number of almost unheard-of titles that serve to bolster the catalogue.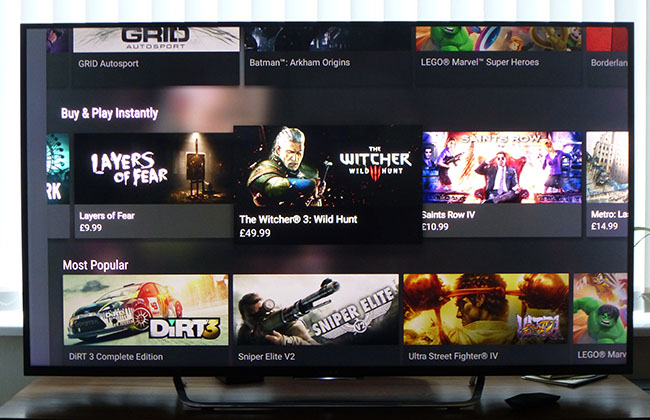 Should you want something newer, such as The Witcher 3 or Metro Last Light Redux, be prepared to pay a premium for them. The excellent Witcher 3 is available for an eye-watering £49.99, far in excess of how much it is currently selling for on a PC or console, yet Nvidia does the right thing by including a GOG code that you can use for your computer.
The more pertinent question is one of how well it plays? And that depends. GeForce Now automatically adjusts the visual quality and resolution based on the speed and latency of your broadband connection. The company states that 720p streaming at 60fps requires an optimal 20Mbps connection. Raising the bar to 1080p60 increases the recommended speed to 50Mbps.
I gamed on the Shield TV in one of two ways - wired directly to a BT Home Hub 5 router or connected to it wirelessly over the 5GHz band. My BT Infinity speed is capped at around 38Mbps and the router is not on the Nvidia recommended list. Nonetheless, a wired connection offered a smooth 1080p gaming experience with very few graphical hiccups. GeForce Now works surprisingly well, providing present-generation console-quality graphics streamed from the web - a definite portent of things to come, I'd imagine. Moving on over to a wireless connection resulted in a downgrade to 720p60, however, though it remained smooth and stutter-free in the racing and first-person shooter games I tried.
And the same is largely true when streaming games from a GeForce-powered PC via Gamestream. Playing Skyrim at 1080p60 is achievable on a wired connection but, in my case, not so when operating through the non-approved router. This type of gaming, be it streamed locally or from the web, is the Shield TV's undoubted strong point, as it's able to genuinely rival the Xbox One or PlayStation 4 without having all that necessary hardware muscle in one centralised place. And it's energy efficient; heck, the unit, acting as a pass-through, only pulls 14W at the wall.