Introduction
Small-form-factor gaming PCs are getting better all the time. The progression of PC hardware allows for today's compact systems to offer a feature set on par with some of the bigger towers, and when done right there need be no consequence with regards to performance, temperature or noise.
DinoPC reckons it has the know-how to make it happen and is showcasing its wares in a revamped Primal GT2 base unit priced at £899.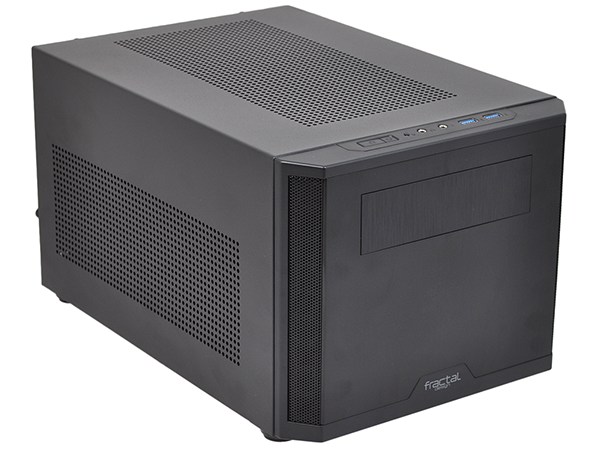 The system's intention is to "be used for living room gaming," though DinoPC tells us there's enough power under the hood to satisfy professional users. First impressions are favourable as the system integrator has settled on Fractal Design's Core 500 chassis as the small-form-factor foundation.
We happened to review the case earlier this month and came away impressed with its ability to accommodate powerful hardware in a 250mm (W) x 213mm (H) x 380mm (D) form factor, and at a cost of under £50. The Core 500 is, in our estimation, one of the better chassis in this category, but as with any smaller-than-usual build, careful component selection is key.
DinoPC takes an interesting approach insofar as the Primal GT2 doesn't really push the boat out in any way, shape or form. There's no liquid cooling, no showy LEDs, and neither the CPU nor GPU have been overclocked by Dino's engineers.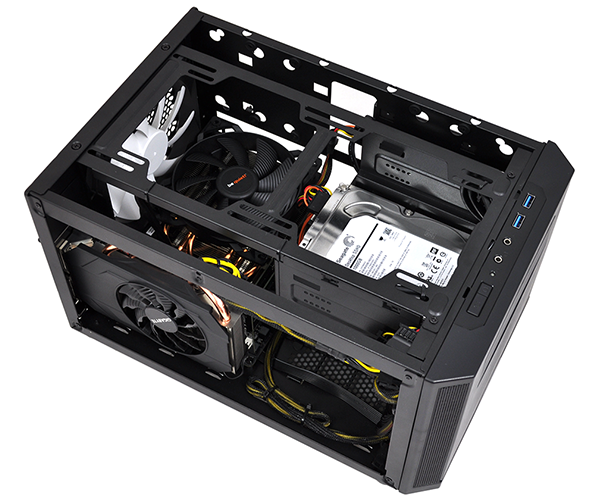 For a company whose slogan states "Engineered for the Extreme," the latest Primal GT2 is surprisingly sedate, though that's not necessarily a bad thing. Perusing the specification sheet reveals a Gigabyte Z170N-WiFi motherboard touting various useful mod-cons such as M.2 PCIe x4 storage, integrated dual-band wireless, and USB Type-C.
Everything sat atop is suitably modern, too. The CPU is a Core i5-6500 from Intel's current 'Skylake' stable, and though the multiplier-locked chip isn't geared for overclocking, the quad-core part is able to reach 3.6GHz and should run frosty beneath the low-profile be quiet! Shadow Rock LP cooler. Partnering the processor is a large 16GB (2x8GB) pool of latest-generation DDR4-2133 memory, and graphics are provided by one of the most attractive GPUs from Nvidia's current crop - the GeForce GTX 970.
The temptation to slot in a high-speed M.2 storage device must have weighed heavy, but DinoPC refrains and in the name of keeping cost down reverts instead to a tried-and-trusted 240GB Kingston SSDNow V300. The SSD does a fine job of serving as the primary storage device and is joined by a 1TB Seagate SSHD that provides additional storage capacity with caching capability.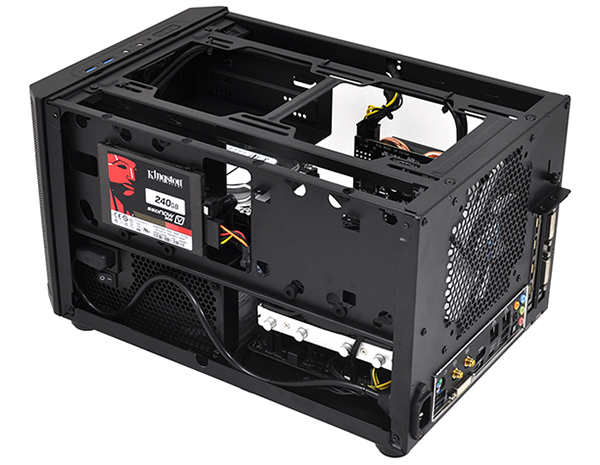 Build quality is tidy throughout, with the 500W FSP power supply's cabling neatly managed, and DinoPC's pricing is right in line with expectations. Perusing various retailers reveals that all of the aforementioned components would cost a smidge over £900 to buy, so if the specification suits, you're effectively getting someone to build it for you, as well as a three-year warranty at no extra cost. Not bad, and for a limited time HEXUS readers can also get priority dispatch within five working days using code HEXGT2, saving you a further £35.
Are there any noteworthy provisos you need be aware of? Well, we can think of one or two. The first is that the system is reasonably quiet but not as deathly silent as we'd hoped. Given the stock-clocked nature of the hardware, we were expecting barely a whisper, but idle noise level measures 38.6dB, and that figure rises to a living-room-unfriendly 42.7dB when gaming.
Our second stab at nitpicking takes aim at the Gigabyte GTX 970 ITX graphics card. It's a good choice for ultra-small machines, but the Core 500 chassis clearly has room for something bigger. We'd have preferred a meatier GTX 970 whose large heatsink would allow for the fan(s) to turn off when idle, and we hope DinoPC makes a larger, faster and quieter GTX 970 available as an alternative option. On the plus side, Windows 10 is pre-installed with nary a sign of bloatware, so let's make hay with the benchmarks, shall we?