Introduction
We were impressed by the diminutive size of AMD's powerful Radeon R9 Nano graphics card a few weeks ago and came away intrigued by the prospect of small-form-factor PCs that may follow.
The theory was sound, but we did have our doubts as Intel and Nvidia appear to have a monopoly in terms of high-performance desktops or indeed laptops. We'd have to think long and hard to recall the last time a system integrator asked to send in an AMD-based machine, but there's good news for all those of us who appreciate a little competition, as Chillblast is breaking tradition with the small-and-mighty Fusion Nano Fury.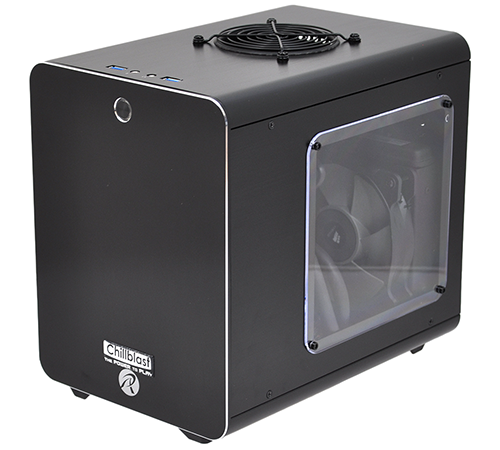 Championing the R9 Nano's compact design, Chillblast ensures this gaming rig is far smaller than your average tower by employing a Raijintek Metis chassis that measures a petite 190mm (W) x 277mm (D) x254mm (H) in size. It's not much bigger than, say, your average car battery, yet it packs the punch of a full-blown gaming PC and looks pretty in the process. This is definitely the kind of PC you'd want to have on show, and it would sit nicely in a living room or bedroom.
Before we get to the internal components, the chassis itself is an interesting choice. Currently available for as little as £40, the Raijintek Metis offers a stylish and sturdy aluminium exterior that belies the low-cost price, but both users and critics have lamented the enclosure's poor out-the-box airflow. Chillblast seems to be aware of such complaints and has gone to the trouble of modifying the Metis' top cover by adding a dedicated top exhaust. There's no attached fan, mind, but the cutout is positioned just above the graphics card and should no doubt aid cooling.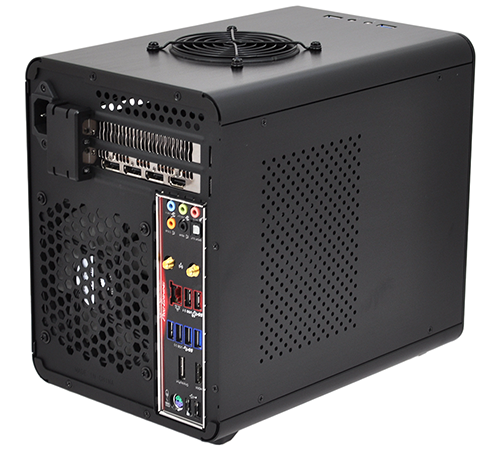 It's always nice to see a system integrator responding to genuine user concerns and coming up with custom solutions that aren't available off-the-shelf. In-house modifications go a long way toward quelling the theory that you could make it at home for less, and the top air vent in this instance is nicely done.
The same could be said for a lot of the build, which arrived securely packaged and tidily put together. We're of the opinion that pre-built small-form-factor machines make a lot of sense as, in our experience, it's awkward working in such tight confines and it's nice to have someone put it together for you.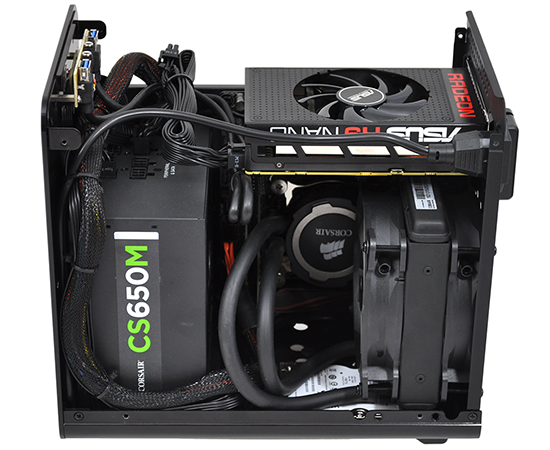 Peeling away the aluminium shell backs up our belief - we certainly don't envy the person who had to squeeze in all that hardware. So what exactly do you get? Well, buried in the back there is an Asus Z170I Pro Gaming mini-ITX motherboard that's outfitted with 16GB (2x8GB) of Crucial DDR4-2133 memory and a latest-generation Intel Core i5-6600K processor. The CPU comes overclocked to 4.4GHz across all four cores and is maintained by a Corsair Hydro Series H75 all-in-one liquid cooler.
Graphics, of course, are provided by an AMD Radeon R9 Nano graphics card, with Asus being the partner of choice in this instance. Storage is handled twofold, with a 256GB Samsung SM951 M.2 SSD serving as the system disk and a 1TB Seagate SSHD providing secondary storage capacity. A quick and spacious combination, which is a good thing as you won't want to be changing either drive anytime soon - getting to them is easier said than done.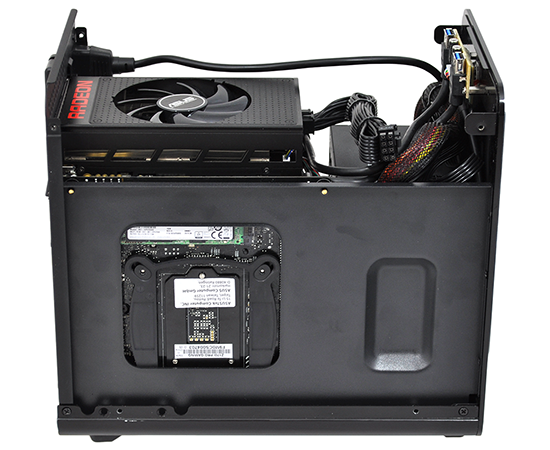 The last major component, the power supply, is a semi-modular Corsair CS650M. A solid choice, though it's telling that practically all other PC components have shrunk in size, while the tried-and-trusted ATX PSU remains unperturbed. Manufacturers aren't showing any great urgency in developing smaller internal units, and we're beginning to wonder if an external PSU is the way forward for small-form-factor machines.
Given the components used, this is exactly the type of PC in which AMD's Radeon R9 Nano should be used, and Chillblast's implementation is well-thought out. The marriage of a quad-core Intel processor, DDR4 memory and a high-speed SSD all-but guarantees system responsiveness, and the guaranteed 4.4GHz overclock is a nice touch. Chillblast's standard warranty offers five years of cover - including labour for the full term and a very helpful collect-and-return service that incorporates parts, labour and courier costs with unlimited repairs for the first two years.
All things considered, this is shaping up to be a tasty bit of kit, so what's the catch? Well, it would have to be price. High-end mini-ITX hardware rarely comes cheap, and at £1,500 the Fusion Nano Fury is no exception. Browsing the shelves of various retailers suggests that you could source all the hardware and Windows 10 for around £1,350, so you're looking at roughly a 10 per cent premium for tidy integration, a neat chassis modification, a guaranteed overclocked plus a solid warranty.